Bid Per Night and Choose Your Length of Stay through March 2017
at the Oxygen Jungle Villas in Uvita, Costa Rica!
Uvita is a charming village named after its adjacent river, enclosed by the Pacific Ocean and mountainous rainforest surroundings, buzzing with tropical wildlife. This is where jungle meets ocean.
Described by many as one of the most biologically diverse areas in the world, south-western Costa Rica has plenty of beautiful beaches and fantastic vistas. Of the many spectacular beaches found here, Playa Uvita is among the top six most stunning beaches in Costa Rica (Frommers). Located in the southern Puntarenas province between surfing hotspot Dominical (with plenty of laidback nightlife) and the relaxed village Ojochal (with great restaurants), Uvita is the perfect base for an unforgettable holiday.

The Oxygen Jungle Villas are inspired by traditional Indonesian architecture. The task for our designers and in-house architect was to translate Balinese architecture into modern terms. The result is the best of two worlds: Balinese style and beauty meets modern comfort and quality.
The traditional Balinese roof angles at 40°; at Oxygen, it is more than 5 meters high and open, making way for light. Side extensions of the roof give the house the typical butterfly look and the low roof line offers ample protection against the sun's heat. A long roof extension protects the generous open living area against rain and sunlight. The tempered glass walls reflect a simple, open and uncluttered lifestyle which demands minimal but stylish furniture and accessories. The walls (frosted and non-translucent in the bathroom) combine beautifully with the Balinese roof.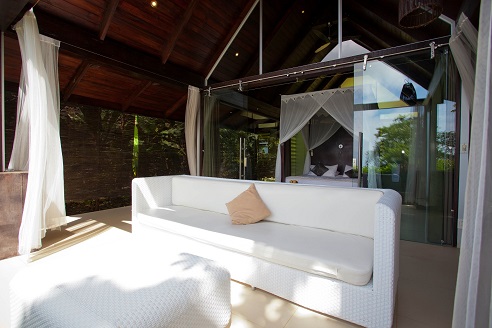 The luxurious villas have a strong and natural look, a signature of the Oxygen hotel.
Most building materials and decorations were sourced in Bali, Indonesia and shipped to the Oxygen estate in Costa Rica. Each spacious villa offers romance in a luxury setting.
Our private villa facilities include:
Air-conditioning
King-size four post bed
Mini bar
Wireless internet (Clubhouse & Villas)
Umbrella
Daily housekeeping
Private terrace
10" rain shower
Hairdryer
Safe deposit box
Lounge sofa
Tax and service charges are $49.00 per room per night additional.
Stay a minimum of 1 Night and up to 7 Nights as desired and based on availability.

Reservations subject to availability.
Current sell out dates:
Dec 15 to Jan 5
Feb 1 to 28