Enjoy 7 Nights at the Villa Del Palmar Beach Resort & Spa in Cabo San Lucas, Mexico!

Offer is for Room only.
Located on a beautiful pristine beach just 5 minutes walking distance to downtown Cabo San Lucas, Villa del Palmar offers the perfect blend of location, intimacy, relaxation and recreational activities. This five star resort is perfect for family vacations with its large swimming pools, dramatic waterfalls, salt water aquarium, and first class spa.
Villa del Palmar has one of the best spa's Los Cabos has to offer. The spa pampers its patrons with exotic treatments in its 10,000 square foot state-of-the-art facility. The full service fitness center, with the latest in cardiovascular exercise, full range of "Paramount" workout equipment, and a wide variety of free weights, provides the perfect environment for the health-minded traveler.
The natural beauty and charisma of Los Cabos meets luxury accommodations and world-class amenities at this fine beachfront resort. You'll find plenty of ways to enjoy yourself here, from the sparkling beachfront pools and whale slide to the European-style spa and fitness club. Villa del Palmar is full service and more: there's a full spa, fitness clubs, two restaurants, art galleries and jewelry shops, a pharmacy, a market—even scooter rentals and horseback riding! There's so much to see and do that you might not even leave the resort.
From the moment you enter the nine-story atrium lobby with its dramatic waterfalls, saltwater aquarium, and seashell chandeliers, you'll realize you have made an excellent choice for your stay in Cabo San Lucas.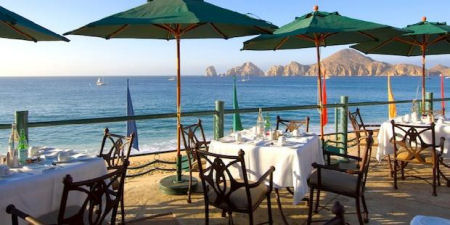 Unit Description
Studio Units have a maximum occupancy of 2 adults and 2 children 12 years old or under.
Dates Available: (Availability is subject to change)
The Following Check-in Dates are Available for a 7 Night Stay!

September 2, 9, 16, 23, 2017
November 11, 25, 2017
December 9, 16, 2017

Upgrade to a 1 Bedroom Suite for an additional $100 for the week!
The 1 BEDROOM SUITE have a maximum occupancy of 4 adults.
Dates Available: (Availability is subject to change)
The Following Check-in Dates are Available for a 7 Night Stay!

Sold Out!

Resort Amenities
Beachfront Pools & Whale Slide
2 Restaurants
Bar
Full European spa
24-hour room service
24-hour front desk
Fitness Center
Babysitting services
Tennis
Jewelry, Pewter, Arts & Crafts shops on-site

Palmita market and pharmacy
Motor scooter rentals
Secure parking and valet
On-call medican assistance
Horseback riding
Video rental store
Wireless Internet in-room, common areas and Internet Cafe; Internet in all rooms ($19/day)
Kid-Friendly Activities
Note: Spend the weekend or stay the week, the suite is yours for 7 nights. Also, there is no presentation to attend, so all your vacation time is yours to enjoy.