Enjoy a 7 Night Stay at the Plum Tree Club in Barbados!
Imagine yourself on a tropical island with warm sunshine on your face, cool Caribbean breezes in your hair and white sand between your toes. Now imagine on that island a place you can call home, an oasis of tranquility where you can retreat, replenish and renew your spirit! Nestled in the quiet, western cornder of the Rockley Golf Course, on the south coast of Barbados, just 6 miles from the airport and 4 miles from the capital city Bridgetown, is the cluster of apartments called Barbados Plum Tree Club.
Plum Tree Club offers guests all the advantages of a genuine hideaway, without the disadvantages of remoteness - an intimate cluster of 40 one and two bedroom self-contained apartments, each with its own private patio offering a choice of views either overlooking the golf course, swimming pool or the beautiful landscaped gardens. There are a variety of casual and fine dining restaurants in the area for lunch and dinner.
UNIT DESCRIPTION
Each apartment has a fully-equipped kitchen, including refrigerator, stove, coffee percolator, toaster, microwave, an air-conditioned bedroom, cable television, local telephone, and complimentary in-room Wi-Fi internet access.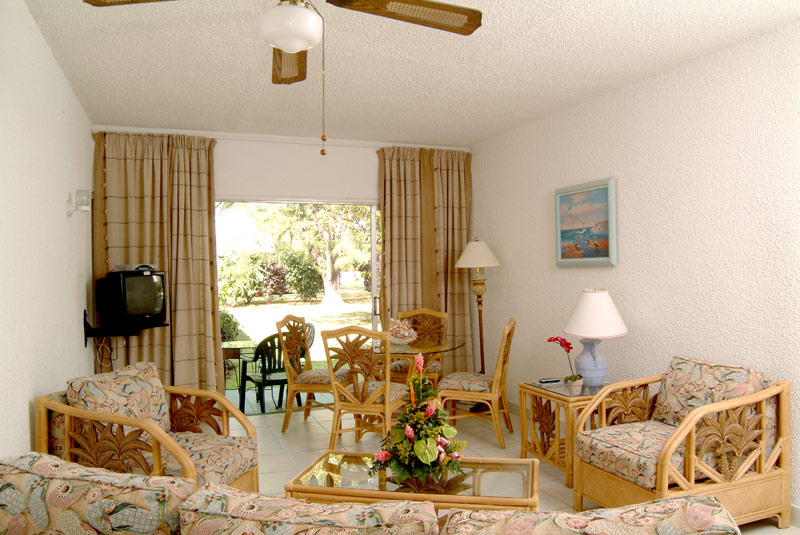 Dates Available: (Availability is subject to change)
Your 1 BEDROOM SUITE comes with a full kitchen and will accommodate up to 4 people.
The Following Check-in Dates are Available in a 1 Bedroom Suite!

July 8, 15, 22, 29, 2017
August 19, 26, 2017
September 2, 9, 16, 23, 30, 2017
October 7, 14, 21, 28, 2017
November 4, 11, 18, 25, 2017
December 2, 9, 16, 23, 30, 2017
Note: Spend the weekend or stay the week, the suite is yours for 7 nights. Also, there is no presentation to attend, so all your vacation time is yours to enjoy.