Bid Per Room Per Night and Choose Your Length of Stay
in 2018
at NH Collection Hotel in
Brussels, Belgium, Berlin, Germany, Frankfurt, Germany or Amsterdam, Netherlands!
---
---
NH Collection Brussels Centre
Surcharge + $20 per room per night

---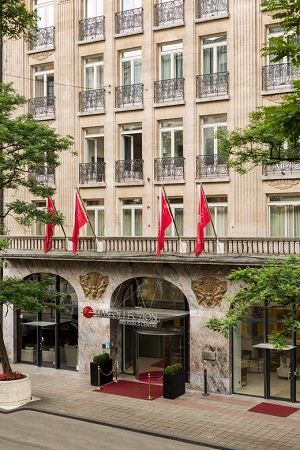 Adventure and Relaxation in the Heart of Brussels
NH Collection Brussels Centre offers an unparalleled luxury experience in the center of Belgium's capital city.
During time spent at the hotel, guests can unwind on the tranquil rooftop terrace, offering an unparalleled view of the cityscape, or enjoy time at the state-of-the-art fitness center, with a range of machines and free weights. Dining is available at the hotel's on-site restaurant and bar, serving up both regional and international fare, as well as a lavish breakfast buffet. Within the city of Brussels, guests are just steps away from storied sights including the Palace of Brussels, a variety of museums, and much more. For a stay within a pristine Brussels location, look no further than NH Collection Brussels Centre for an unforgettable sojourn.
---
---
NH Collection Berlin Friedrichstrasse
---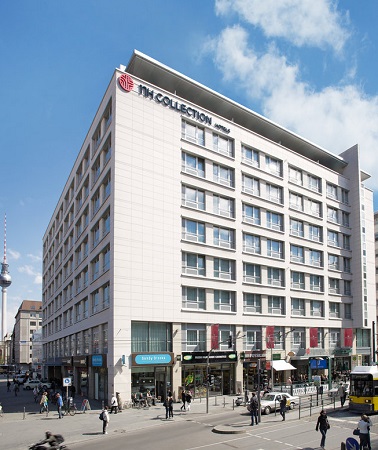 Experience the Wonder in Germany's Cultural Haven
Berlin is a vibrant city with an emphasis on diversity, culture, and artistry. A stay in the heart of the city at NH Collection Berlin Friedrichstrasse ensures that travelers can experience the unforgettable moments that Germany's capital city has to offer. With a sleek, modern design, the hotel seamlessly blends into the cityscape, with 268 modern guestrooms and suites to match. A range of room types allow guests to choose the best accommodation style, each equipped with a myriad of amenities.
While onsite, enjoy the hotel's two restaurants, one offering buffet meals, while the other serves up regional specialties. The hotel's state-of-the-art fitness center offers a variety of workout machines and weights, and guests can rent bikes, cars, and more from the E-Mobility lounge, allowing them to explore the landscape with ease. While staying in a prime location, guests are just a short stroll away from Berlin's distinguished sights, from storied cathedrals, to world-class dining, to celebrated theatres, and much more.
---
---
NH Collection Frankfurt City
---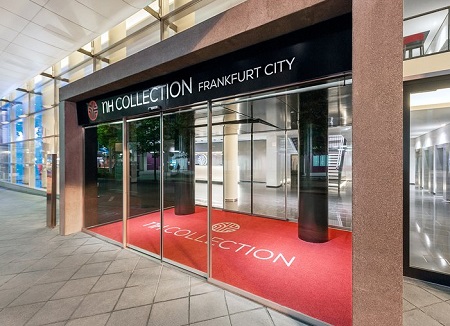 Endless Elegance in the City Center of Frankfurt
Situated in the heart of Frankfurt, NH Collection Frankfurt City offers up a prime location in the city for both business and leisure travelers. The hotel's 256 comfortable, cosmopolitan guestrooms and suites offer up endless luxuries, including countless amenities and matchless views of scenic Frankfurt. During time at the hotel, travelers can enjoy the state-of-the-art fitness center, as well as sauna and steam room for complete serenity. Guests can also enjoy the hotel's distinguished restaurant, serving up international delicacies, as well as a breakfast buffet daily.
When venturing out to explore Frankfurt, travelers will find that the top destinations of the city are located just moments away from NH Collection Frankfurt City. From museums, to the convention center, to palaces, guests can tour the area per their unique preferences with ease. With time in a stunning city center location, guests of NH Collection Frankfurt City will find that they have created unforgettable memories.
---
---
NH Collection Amsterdam Barbizon Palace
Surcharge + $20 per room per night
NOW SOLD OUT!
---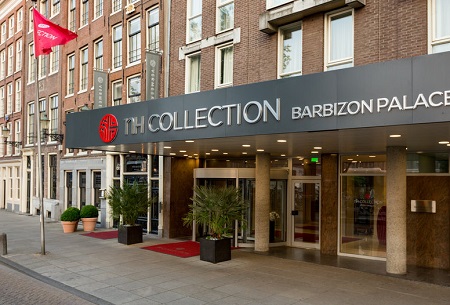 Luxurious Convenience in the Heart of Amsterdam
Housed in a 17th century building, NH Collection Amsterdam Barbizon Palace offers everything from the superior guestroom to apartment-style rooms to accommodate those in need of a kitchen during their stay.
This luxurious hotel is conveniently located across from Amsterdam Central Station with easy access to and from Amsterdam Airport Schiphol. A quick 10-minute cab ride can take guests to the Van Gogh Museum to view world famous works of art.
Guests can enjoy on-site, Michelin star dining or wander through the heart of Amsterdam's city center and explore the art, history, dining, and culture this friendly Dutch city has to offer.
---
Stay for a minimum 1 Night and up to 10 Nights desired and based on availability.

Inventory is very limited. Auction Winners are advised to submit their preferred travel dates upon winning of the auction.

Tax and service charges are $49.00 per room per night additional.

Reservations subject to availability.