This auction has ended without any winners.
Unfortunately, this offer has ended. The offer ended: Wednesday, November 8, 2017 11:00 PM
The good news? You can check out hundreds of more deals that you can Bid on or Buy-It-Now.
New to SkyAuction? We are the web's leading travel auction site, offering thousands of super discounts on flights, cruises, hotels, vacation rentals, and more every day. You can register to bid with our simple, secure, fast, and free registration page.
Item Description
7 nights in a 3 BR Unit at the Waterside by Spinnaker in Hilton Head Island, South Carolina for November 18, 2017
---
Item #:
2861053
This offer is for a 3 bedroom unit with a full kitchen sleeping up to 8 people.
Winner will have their credit card charged immediately upon completion of the auction and documents will be sent via email! Winner must have a valid credit card on file at the end of the auction or they risk losing the room.
Highlights
A resort within itself, Waterside by Spinnaker has the convenience of a full-scale resort without the crowds. Featuring the largest aquatic facility on Hilton Head Island, Waterside offers several pools, a hot tub, spacious villas. Its proximity to the Atlantic Ocean also makes Waterside a popular destination. From resort sponsored on-site activities to a round of golf, Waterside has activities for all ages and all interests. Family and friends may reach guests at the resort by calling direct: 843/341-4242.
Additional Information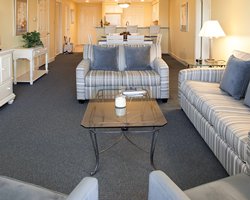 Your Waterside unit features central AC,
telephone, TV, DVD player and CD player.
1BR units OCC: Max 4/Pri 4 contain 1 bath,
1 king bed and 1 queen sleeper sofa. 2BR
units OCC: Max 6/Pri 6 have 2 baths, 1
king bed and 2 twin beds (or 2 king beds)
and 1 queen sleeper sofa. 3BR units OCC:
Max 8/Pri 8 contain 3 baths, 2 king beds,
2 twin beds and 1 queen sleeper sofa.
Check-in begins at 4PM and check-out is
prior to 10AM each Saturday. Early check-
in/late check-out are not available. If
staying multiple weeks, please contact the
resort prior to your 1st week arrival. If
arriving after 11PM, on Saturday or any
other time of the week, you will check in
at The Player's Club Hotel, located at
35 Deallyon Avenue (Phone: 843/785-8000).
A US$150 security deposit is collected at
check-in. No pets, motorhomes, boats, RVs,
campers or trailers allowed at the resort.
Parking limited to (2) spaces per villa.
Elevators available except in #5100 bldg
(stairs must be climbed to reach 2nd floor
units). Limited handicapped accessible
units available, please call for details.
Unit Amenities
Amenities in All Units
Telephone
Laundry
Kitchen (Full)
Air Conditioning
Carpet
Washer/dryer
Dishwasher
Microwave
Resort Amenities
On-Site
Swimming Pool
Children's Pool
Whirlpool/hot Tub
Games Room
Handicapped Unit
Lift/elevator
Nearby
Beach
Fishing
Tennis
Live Entertainment
Grocery Store
Hairdresser
Shopping Area
Off-Site
Racquetball (1.0 miles)
Health Club (1.0 miles)
Snack Bar (1.0 miles)
Medical Facilities (1.0 miles)
Restaurant (1.0 miles)
Boating (3.0 miles)
Auto Rental (7.0 miles)
Urgent Information
Effective
Message
1/3/04
One In 4 Year Rule Strictly Enforced. Security Deposit Of
$150 Required At Check In. Check In Is At 4pm And Check Out
Is At 10am. No Early Arrivals Or Late Departures Allowed.
Bedding Structures Vary. If Handicapped Required, Must
Call Resort 3 Weeks In Advance Of Stay, But No Guarantees.
2/18/99
Some 2 Br Units Have 2 King Beds And Queen Sleep Sofa.
Others Have 1 King Bed, Two Twins And One Sleeper Sofa.
One In Four Year Applies To Any Of The Spinnaker Properties.
Spinnaker Enforces A Group Rule Meaning That If A Member
Goes To One Of The Resorts In The Group They Can Not Go To
1/31/06
Any Of The Other Resorts For 4 Years.the Following Resorts
Are Part Of The Group 1503,3298,3400,4223 And 5366.
Pool Closed For Repairs May 2012.
---
Bid price is per unit.
Travel Details
Anytime within the following date(s):
11/18/2017
Anytime within the following date(s):
11/25/2017
7 nights.
$299 additional per unit
$20
---
Please note: The rank of bidders is listed by the best price, greatest quantity, date the item was bid on, and the time the bid was placed. Winning bidders will be displayed! All times are EST.
*The AutoBid feature is an optional feature which allows you to place a blanket bid on an item. This way you do not have to be present to raise your bid to the next acceptable bid level should someone else outbid you. If someone outbids you, the AutoBid acts as your agent and raises your bid to the next acceptable winning bid. This will continue until your AutoBid limit is reached. In the event of ties, the AutoBid is the winning bid.
Reference #: 157082