Enjoy 7 Nights in a 1 or 2 Bedroom Suite at the Mayan Palace Nuevo Vallarta in Mexico!
As of February 5, 2018, The resort charges a resort fee of $30 per person per day at check-in for all international travelers over the age of 12 and a $15 per person per day for all international travelers 2 to 12 years of age. Due to contract restrictions Mexican Residents are not permitted to use this offer.
Mayan Palace Nuevo Vallarta is the best vacation hideaway near the Pacific. Enjoy the ocean-front restaurant Punta Arena and the Snack Bar Balche. At night, stop by the lobby bar with live music or the Rouge Bar for a large selection of wines from around the world. Room service is available from 7 a.m. to 1 a.m. For breakfast, Cafe del Lago is open daily with Sunday brunch service. The resort's magnificent swimming pool is the second largest in Latin America. The BRIO Spa offers a large selection of massages, workout room, sauna, steam room and Jacuzzi.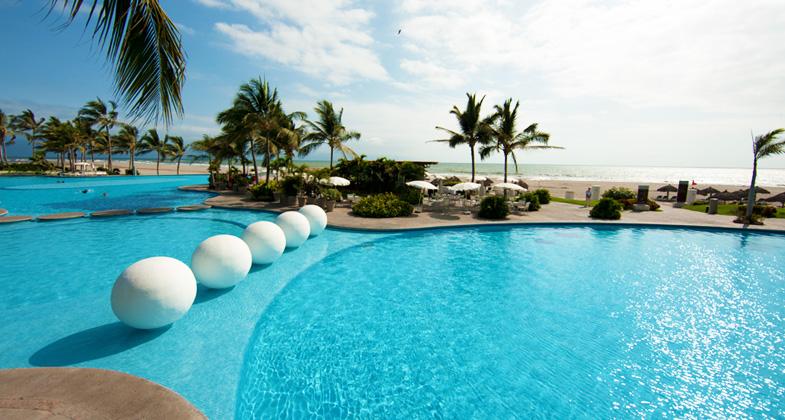 The Nuevo Vallarta region is distinguished by its authentic cuisine. Discover the unparalleled golf courses and spas. Enjoy the friendliness of its people while taking a walk through the lush tropical foliage of the area. Take an electric boat ride or learn to row a kayak. Admire the beauty of the Pacific and enjoy the warm sun of the region.
Unit Description
Ready for some relaxation? Natural sunlight, stunning terrace views, and refreshingly cool air will do the trick. The traditional style of Mexico within each room invites you to relax in the soothing quarters of the Mayan Palace Nuevo Vallarta. Returning from the beach, the Mayan Palace Resort beds are cozy whether for an afternoon nap or a great night's sleep. The Mayan Palace truly is a home away from home.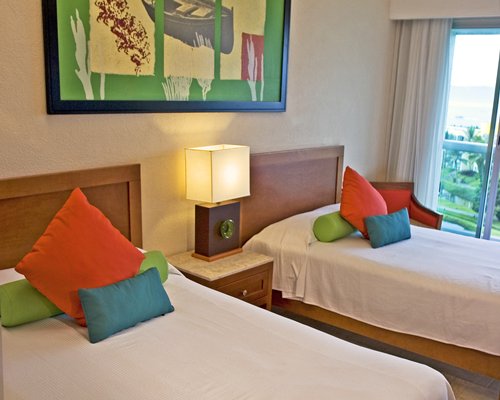 Dates Available: (Availability is subject to change)
1 BEDROOM SUITE
Enjoy the extra space that the Suite has to offer--like the Master Room but with an additional living area, with 2 Sofa Beds facing a second television, and a kitchen and dining area for "eat-in" nights. Both the bedroom and the living room have private outside terraces.
The Suite accommodates 4-6 people comfortably.
The Following Check-in Dates are Available for a 7 Night Stay!

September 9, 21, 22, 23, 28, 29, 30, 2018
October 5, 6, 7, 12, 14, 19, 20, 21, 26, 28, 2018
November 2, 4, 9, 11, 2018
UPGRADE TO A 2 BEDROOM SUITE FOR $100 FOR THE WEEK!
2 BEDROOM SUITE
The Two Bedroom Suite features two bedrooms with two double beds and one king-size bed, and two bathrooms. It also features a balcony, as well as a kitchen and dining table, and two TV's.
The Suite accommodates 8 people comfortably.
The Following Check-in Dates are Available for a 7 Night Stay!

August 19, 24, 2018
September 9, 14, 16, 21, 22, 23, 28, 29, 30, 2018
October 5, 6, 7, 12, 13, 14, 19, 20, 21, 26, 28, 2018
November 2, 4, 9, 10, 11, 2018
Don't see the date you're looking for? Click below to view and instantly confirm any availability up to one year from today. Just search your date range and destination in SkyAuction.com's NEW Vacation Rental Booking Engine!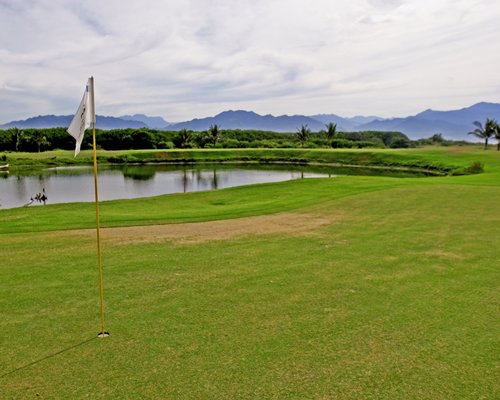 Note: Spend the weekend or stay the week, the suite is yours for 7 nights. Also, there is no presentation to attend, so all your vacation time is yours to enjoy.