Buy a stay in the Iconic Suite for $999. per night including Breakfast and all hotel taxes. Stay Now thru October 31, 2016 at the Iconic Santorini - A Boutique Cave Hotel.
Going rates for the Iconic Suite are EURO 1950 or USD 2400 per night!
A timeless experience awaits guests of the Iconic Santorini, a unique boutique cave hotel located in the picturesque romantic Greek island village of Imerovigli. Situated on a spectacular hillside setting and literally carved from the volcanic caldera wall, our haven of tranquility was named Greece's Leading Boutique Hotel for 2014 by the World Travel Awards.
Iconic Santorini luxury boutique hotel is truly a most tranquil retreat offering breathtaking views of the cliffs and azure blue waters from the property's five distinctive levels. Every room and suite is individually unique and feature dedicated lounger and table seating high above the majestic wonders of the ancient volcanic island, which rises from the Aegean Sea below.
Iconic in every way, our first class Santorini luxury hotel is renowned for warm personalized Hellenic hospitality, sublime Greek style residences carved into the historic and dramatic caldera cliffs, luxurious amenities, all-natural oversize beds, not forgetting the delicious local cuisine – which combined with utmost serenity and magnificent caldera views, creates a platform for magical and long-lasting moments to cherish.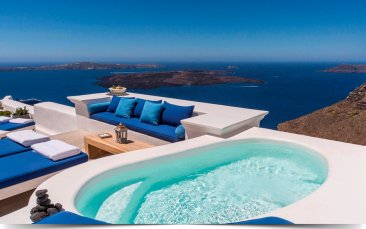 The Iconic Suite:
Our most lavish accommodation, The Iconic Suite captures the true class, grace and power of Santorini, icon of the Greek isles. The generous sized living area, elegant bedroom and quixotic indoor jetted grotto pool open to a generous private terrace, with an outdoor jetted pool and dramatic views overlooking the azure blue waters below.
These elements take our most spacious suite to new heights of luxury and sophistication. Splendorous design features set against local stonework and the original stove of this authentic cave home come together honoring the history of this iconic island. A stay in The Iconic Suite warms your heart and soul, forever finding its place among your fondest memories.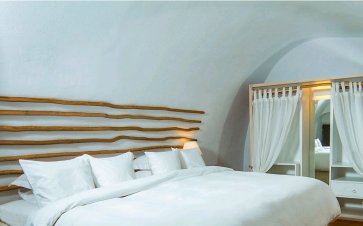 Amenities of The Iconic Suite:
Oversize All-Natural COCO-MAT® 4 Layer Bed
Flat Screen Television with Satellite Channels
Aēsop® Luxury Bathroom Amenities
Heated and Jetted Indoor Grotto Pool
Separated Living Room and Bedroom
Spacious Bathroom and Separate Rain Shower
Separate Breakfast and Lounge Seating
Elevated Terrace with Pergola Seating
Original Home Stove Decoration
Large, Personal Desk in Residence
Tall Ceilings / Spacious Floor Plan
Custom Built Full-Size Closet
High speed Internet (dedicated WiFi router)
A Delightful Daily Breakfast
Complimentary Mineral Water & Soft Drinks
Dedicated Caldera-facing Jetted Pool
Taxes and hotel service fees are INCLUDED in this offer.
All reservations are subject to availability.