Purchase Tickets For THE RIDE in New York City!
Part Tour. Part Show. Total Entertainment.
THE RIDE is a unique event, equal parts theatrical show and immersive tour. See spectacular performances and classic New York City sights from the comfort of our technologically-advanced moving theater motorcoach. Experience the best of New York City. Get on, and Experience THE RIDE.
"Fasten your seat belts and embrace the city" -New York Times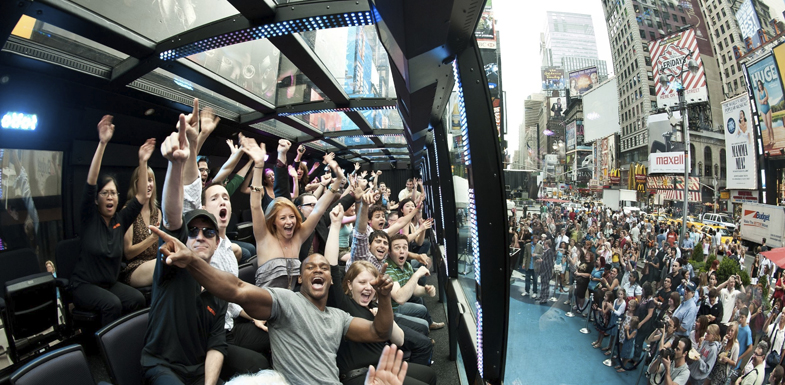 Filled with amazing performances, fascinating facts and non-stop excitement inside and out, THE RIDE transforms 4.2-miles of city streets into performance backdrops. Everybody gets a front-row seat with a panoramic view of renowned New York sights, with performances around every corner. Part tour. Part show. The most exciting and entertaining New York City experience! Check the ticketing site for complete schedule.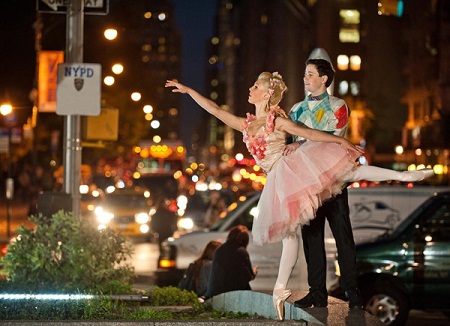 THE RIDE uses New York City and its renowned landmarks as the backdrop for a theatrical event that blurs the boundary between tour and performance. The city becomes a stage, and soon you can't tell where the street ends and the show begins! THE RIDE celebrates the eclectic mix of people that make New York City complex, interesting, and unpredictable! Realizing that anything can happen at any time, THE RIDE gives you a front-row seat to see the city.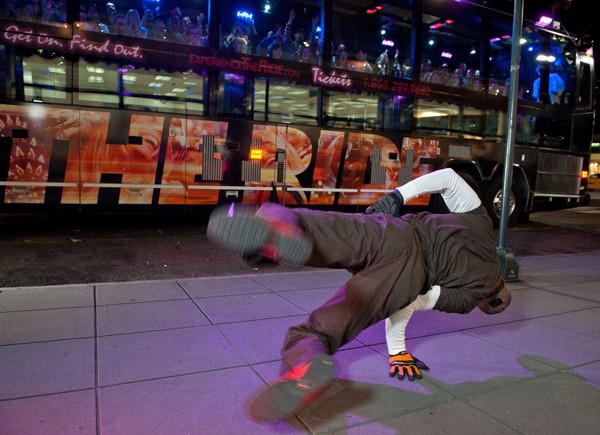 THE RIDE gives you a front-row seat to the streets of New York City in a multi-million dollar motor coach that comes equipped with state-of-the-art audio/visual technology, including 40 plasma screen TVs and over 3000 LED lights. Enjoy the performance from the comfort of one-of-a-kind stadium seating and huge panoramic windows.

THE RIDE starts and ends on 42nd Street at 8th Avenue. The line forms in front of Senor Frogs Restaurant on the southeast corner of 42nd Street.
THE RIDE audiences see Times Square, the Chrysler Building, Grand Central Station, Bryant Park, NYC Main Branch of the Public Library, Empire State Building, 42nd street, Shubert Alley/Broadway theaters, 6th Avenue Skyscrapers, Carnegie Hall, Columbus Circle and Central Park. All in about 75 minutes
*Ticket/Voucher is for THE RIDE only.

Winners will receive an Electronic Voucher from Skyauction!
Please call The Ride Box Office at 212-221-0853 to make reservations.
Visit www.experiencetheride.com for the current schedule of Rides. Reservations are subject to availability and it is advised that you book at least 24 hours in advance. Same day reservations are sometimes available, but not guaranteed.

The Ride Box Office is located at 234 West 42nd Street between 7th and 8th Avenues in the Madame Tussauds Wax Museum. Please be sure to exchange your vouchers for tickets at least 30 minutes prior to your departure time.