Bid Per Person per Night in a Luxury Safari Tent and Choose Your Length of Stay anytime thru December 20, 2016 at the romantic and luxurious Rafiki Safari Lodge, near Manuel Antonio, Costa Rica!
Rafiki is a wilderness luxury tent camp and conservation project focusing on adventurous sustainable tourism. The lodge is nestled on 842 acres of pristine jungle along the Savegre River, 30 km south of Quepos and Manuel Antonio in Costa Rica.
Guests can enjoy a wide variety of activities such as whitewater rafting, horseback riding, hiking to waterfalls, and world-class birding.

Even if you are not an adventurous traveler or into eco tourism, you will still enjoy our truly unique accommodations and natural beauty.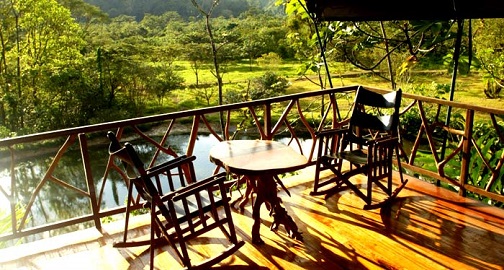 Our luxury Safari tents are set atop hardwood decks, each with rocking chairs, so you can sit back and admire the view in privacy. Imported from South africa, the tent's design lets you experience nature up close while keeping the insects at bay. Each unit features its own modern, complete bathroom. Whether you are on your honeymoon, want to bring a group of friends and family, or business associates, Rafiki provides the perfect atmosphere. While our property is a nature retreat... it is hardly roughing it!
Accommodations in a Luxury Safari Tent:
Fall asleep to the peaceful sounds of the forest, and wake up to a magnificent view from your private porch!
Camping has never been so comfortable. Although our accomodations are set in the middle of the wilderness, anyone can "rough it". Our tents are spread out across a plateau giving each one privacy, while still remaining close to the main lodge. Each tent has a unique view into the forest. You may spot a nest and watch the colorful inhabitants' lives for a few days, or perhaps a tree will catch your gaze as it miraculously appears out of nowhere through the mists.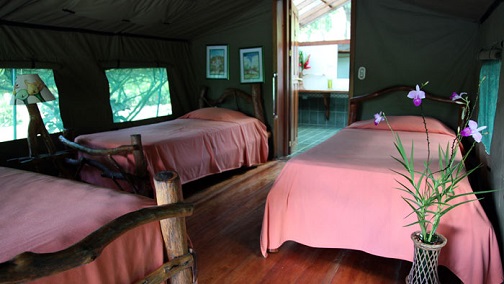 Our ten spacious luxury safari tents were imported from south Africa. Families up to 4 people can comfortably fit into a tent. Each of our standard rooms is equipped with one double bed and two singles. The tents have three layers of protection. The outer shade net keeps out the hot rays of the tropical sun, the middle layer keeps the rain off of you and inner layer keeps the creepies at bay. The tents function as well if not better than conventional building materials to keep you cool, dry, and safe, but also give you the advantage of allowing the sounds and smells of the jungle in. Each unit features a modern bathroom, solar hot water, electrical outlets and lights, as well as a private porch with rocking chairs.
Offer is based on double occupancy in a Luxury Safari Tent. A single supplement of $75 per night is available to those of you traveling or rooming solo.
All Meals are included.
Up to 2 Kids age 12 and under are free of charge when staying with parents. Please advise names and dates of birth with the travel details.
Stay a minimum of 1 night or up to 7 nights as desired and based on availability.
Tax and service charges of $49 per person per night additional.
Reservations subject to availability.