Bid Per Room Per Night and Choose Your Length of Stay
anytime in 2016 at
Your Choice of one of the following hotels in Barcelona, SPAIN!

Hotel Condes de Barcelona - ONLY 5 NIGHTS LEFT!
Hotel Murmuri
Hotel Torre Catalunya - NOW SOLD OUT!
Olivia Balmes Hotel - NOW SOLD OUT!
Olivia Plaza Hotel - NOW SOLD OUT!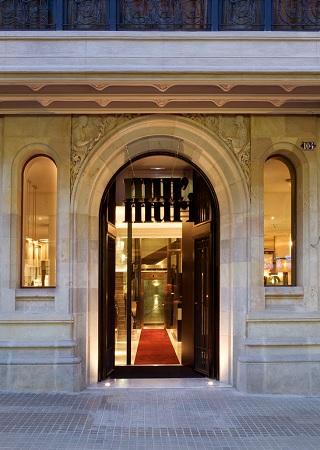 Hotel Murmuri

A Chic 4-Star Hotel in Barcelona
Hotel Murmuri is a stylish boutique hotel located in one of Barcelona's most desirable neighborhoods. It sits among trendy fashion boutiques, art galleries, and restaurants on the leafy Rambla Catalunya. Guests are just a short stroll from the famous Passeig de Gracia, a grand boulevard lined with upscale shops and magnificent buildings, including Antoni Gaudi's modernist masterpieces Casa Milà and Casa Batlló.
The hotel's elegant Baroque exterior contrasts with the chic contemporary design of its interior. Guestrooms are beautifully decorated, inviting, and comfortable, and they feature excellent amenities and luxurious touches such as Egyptian cotton sheets and rain showers.
Since opening in 2008, Hotel Murmuri has earned a reputation as one of the treasures of Barcelona's Eixample district. It's the perfect hotel for your Barcelona vacation.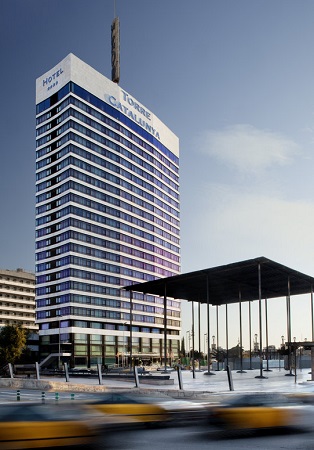 Hotel Torre Catalunya - NOW SOLD OUT!
Romance, Elegance, and City Views in Barcelona
Hotel Torre Catalunya is an exquisite, four-star hotel in a prime location in Barcelona, with close proximity to the bustling city's historic quarter. The hotel's staff is dedicated to high-quality service and advising guests on the best places to visit in the area. Finish your day touring Barcelona with a view from above at the Visual Restaurant on the 23rd floor. Hotel Torre Catalunya offers elegantly designed rooms and romantic suites, each with exquisite attention to detail, and promises a location nearby to the city's prime attractions for both leisure and business.
Prepare for a feast of Mediterranean-inspired delicacies while enjoying panoramic views of downtown Barcelona at Visual Restaurant. Or spend an evening sipping on Barcelona's finest wine, cocktails and appetizers in the relaxed environment at Eclectik Bar.
Located a short minute walk from Barcelona's Sants Station, Hotel Torre Catalunya is within walking distance to the convention area in Plaza Espanya and just 15 minutes to the Mediterranean Sea.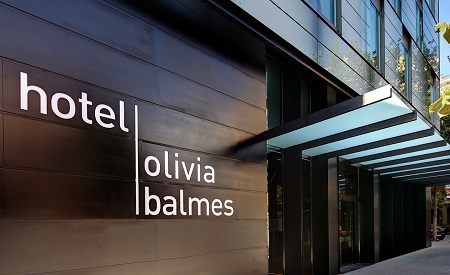 Olivia Balmes Hotel - NOW SOLD OUT!
Four-Star Hotel in the Heart of Barcelona
Opening in summer of 2013, the Olivia Balmes Hotel was designed with the highest quality standards. The first in its category to receive an "A" in energy efficiency, Olivia Balmes Hotel exceeds in sustainability. The hotel is located in the middle of the Barcelona's shopping and tourist center. Guests will be minutes from exclusive shops on Rambla de Catalunya, the Picasso Museum, and Gothic Quarter.
Experience Seventeen, a Mediterranean and Catalan-inspired restaurant featuring seasonally fresh ingredients served in a simplified manor, highlighting the true flavor of every dish. Dine in a relaxing contemporary oasis complete with indoor/outdoor seating.
Just 11 miles from Barcelona Airport, the Olivia Balmes Hotel is located in the Eixample District of Barcelona, offering guests proximity to some of the city's finest cultural and historical attractions.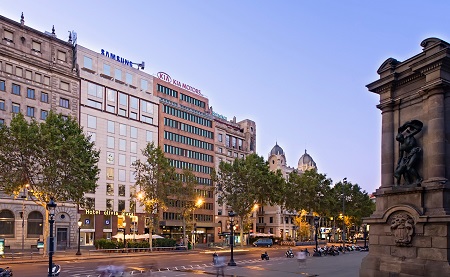 Olivia Plaza Hotel - NOW SOLD OUT!
A Modern Barcelona Hotel on The Placa De Catalunya
It's hard to imagine a better location in Barcelona than that of the Olivia Plaza. This stylish modern hotel sits across the street from the Plaça de Catalunya, a popular meeting spot and the lively hub of many tourist activities. The plaza is the starting point of the famous boulevards known as Las Ramblas, which are alive with tourists and street entertainers day and night. It is also the starting point of the Passeig de Gracia, a grand boulevard known for its designer boutiques and magnificent architecture. Many other top attractions are also found within walking distance of the plaza.
Olivia Plaza's in-hotel restaurant Nineteen is a casually chic all-day dining spot offering a breakfast buffet, tapas, and a daily set menu of gourmet Mediterranean and fusion dishes. Guests can enjoy meals and drinks al fresco on the delightful terrace, which abuts the medieval Church of Santa Anna.
The Olivia Plaza Hotel is located on the Plaça de Catalunya, which lies at the very center of Barcelona and serves as the city's main transportation hub. Many of the attractions that draw visitors to the city are located within walking distance of the hotel.

Stay a minimum of 1 Night or up to 7 Nights as desired and based on availability.

Inventory is very limited. Auction Winners are advised to submit their preferred travel dates upon winning of the auction.

Tax and service charges are $49.00 per room per night additional.

Offer is based on single or double occupancy in standard room accommodations.

Reservations subject to availability.