Bid per Bungalow per night and stay anytime now thru July 2017 at the Cape Santa Maria Beach Resort in Stella Maris, Long Island, Bahamas!
Untouched… Undiscovered… Barefoot elegance in a Caribbean paradise. Cape Santa Maria Beach Resort is unlike any place you have ever experienced. Mile after mile of silky-fine sandy beach melts into the warm turquoise water. With twenty bungalows and twenty villas steps from the most beautiful beach in the Bahamas, an escape to Cape Santa Maria Beach Resort is an experience you will never forget.
Cape Santa Maria Beach Resort is a tropical oasis nestled on Long Island in the South Bahamas. The resort is comprised of twenty beachfront bungalows as well as several beautiful new villas, each just steps from your own secluded white sand beach.
Life at the resort is elegant yet relaxed. Wake up to the sounds of gentle surf and Caribbean trade winds as you plan another day in paradise. Explore the crystal clear turquoise water of the Caribbean sea with scuba and snorkel expeditions or try your hand at some morning fishing on the exciting tidal flats. In the afternoon, relax in the sun with a tropical drink and one of the most beautiful views in the world. Dine on local and continental cuisine and take in beautiful Caribbean sunsets.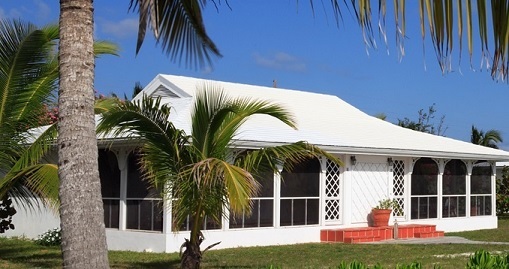 Offer is based on single/double occupancy in a bungalow:
Each bungalow boasts a private veranda with breathtaking views of picture-perfect sunsets. Step out onto the boardwalk for a romantic stroll while being caressed by gentle Caribbean trade winds. Flowering bougainvilleas and jasmine trees surround your private bungalow and fill the air with the lush fragrances of the Bahamas.
Our comfortable bungalows have either two queen beds or one king bed. We also offer larger bungalows with two queen beds and a side room with two twin beds. These larger rooms are perfect for a family of four. A roll away cot can be brought in for one additional person.
Each bungalow is steps away from the water and contains cool Italian tile floors, air conditioning, tub/shower in the bathrooms, coffee maker, hair dryer, guest amenities, clock radio and ceiling fans. Bungalows are also equipped with small refrigerators and personal safes.
A TV room and business center, complete with complimentary wireless high speed internet access, is available at the resort's Beach House.
All reservations are subject to availability.
A tax and service charge of $49.- per nigth is additional.
Stay up to 2 nights only.