For Love of the Wild. A Luxury Vacation in the Sanctuary of Nature.
Bid per Estate room per night and choose your length of stay thru March 2017 at the Hidden Valley Inn & Reserve in Belize!
Hidden Valley Inn is an intimate luxury resort set inside a vast private reserve exclusive to our guests. Here, both nature and its visitors find sanctuary in the perfect habitat, a land where serenity, beauty and adventure harmonize.
Located in the Mountain Pine Ridge area of the Cayo District of Belize, The Inn and its twelve cottages are appointed with comforts and amenities that indulge our guests in plush hospitality. Comfortable lounges with stone hearths, mahogany bar room, pool terrace and flourishing gardens create an atmosphere that accommodates our guests' sense of adventure as well as their comfort and leisure.
More than a vacation, Hidden Valley Inn & Reserve is an experience. Come visit us...for love of the wild.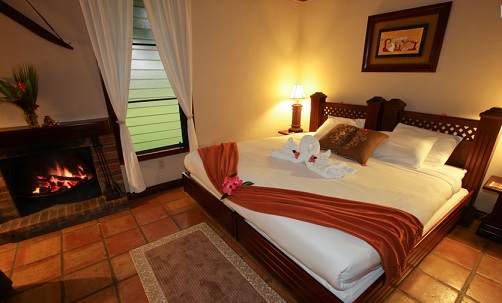 THE ESTATE COTTAGES
Hidden Valley Inn offers luxury accommodations in the middle of our private 7,200 acre Nature Reserve. There are 10 Estate Rooms.
The Estate Rooms
At the door to each of our cottages, guests are greeted by hanging orchids, gardens and a pail of firewood. Every cottage is comfortably appointed with fireside seating, full bath and shower, writing desk, closets, and Queen or King Bedroom.
The decor of the Hidden Valley Inn cottages include handsome mahogany and leather furnishings, terracotta tile flooring and local accents. Soft furnishing and amenties include plush luxury bedding, pillow, bath towels, and complimentary in-room terry-cloth robes.
The Estate Cottages consist of 5 King Rooms and 5 Queen Rooms. King rooms can be divided to accommodate twin beds.
Room Features at a Glance
All of the Cottages are constructed with solid rooftops (not thatch), screened windows and ceiling fans. Wi-Fi is available throughout the Inn, in the cottages and in the lodge, and every room is equipped with its own telephone.
In-room fireplaces
Ceiling Fans
Full bath
In-room Safe
Daily maid turn-down service
In-room Wi-Fi (and throughout lodge)
Telephones in room
Plush Linens
Complimentary plush terry robe
* There are no televisions in rooms.
* There is no in-room a/c. (Average nightly temperature 70 degrees F)
Stay a minimum of 2 nights or up to 9 nights.
A tax and service charge of $49 per night is additional.
All reservations are subject to availability.