Bid Per Night and Choose Your Length of Stay
thru March 2017
at Rio Perdido Hotel & Thermal Rivera in Guanacasta, Costa Rica!
The 20 bungalows are distributed into 3 segments, according to the gradient lines. From top to bottom, these segments have 7, 5, and 8 units. They truly each offer a unique experience. Access to the bungalows is served via elevated pathways that connect to general circulation pathways and hiking trails.
The different focal zones of the project can be accessed by foot, bicycle, or compact-electric cars that offer transport service. While said areas are not far from one another, it is up to the guests as to how they will move about.
The modular build-style of the bungalows serves to insure minimal impact, as far as maintenance and footprint are concerned. The unit's shell is composed of steel and light walls of a strong and inert composition. Details include fine wood accents, stainless steel, nylon rope, and polished concrete floors. We have designed something special that is both clean and warm.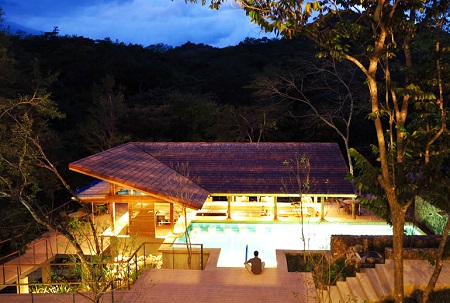 While the feel of each bungalow is distinct, all of them offer the same features and amenities. The 36m2 (400sq ft.) consist of a cozy but very comfortable bedroom + bathroom and an elevated terrace. The rooms have two twin beds on industrial rollers. This design allows them to be brought together so as to form a king-sized bed.
The mentioned terrace was designed to be an ideal place for sitting back, reading a book, enjoying a fresh drink, or simply admiring the landscape from a comfy hammock. The terrace is integrated with the entry, so you are allured into getting familiar with said, delightful spot…from the get-go.
For those who simply can't leave technology out of the equation (even in a place like this!), rooms are equipped with high-speed wireless Internet, Cable TV, and a high-efficiency air conditioning system.
We have designed a very functional bathroom; while there is no wasted space, it is quite comfortable. Materials and designs have been crafted specifically for this project. The counter is a combo of polished concrete with inlaid recycled glass bottles and stone. The bathrooms are fitted with premium plumbing as part of our effort to meet the highest sanitary standards and maintain optimal functionality.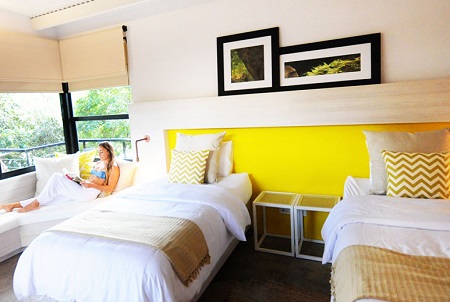 Meals and Activities are NOT Included.
Tax and service charges are $49.00 per room per night additional.
Stay a minimum of 1 Night and up to 7 Nights as desired and based on availability.

Reservations subject to availability.