Bid per Garden Cabin Room per night and choose your stay
thru December 2016
at Tensing Pen Resort in Negril, Jamaica!
For the ultimate dream destination, come to Tensing Pen, an exclusive premiere Jamaican Resort. The cliffs and ocean views are amazing, and combined with the crystal clear water of the Caribbean, the stunning limestone cliffs off Negril's West End and the beauty of Tensing Pen's Jamaican Resort you can prepare to have your breath taken away. At Tensing Pen you can vacation in style and relax to your bodies content.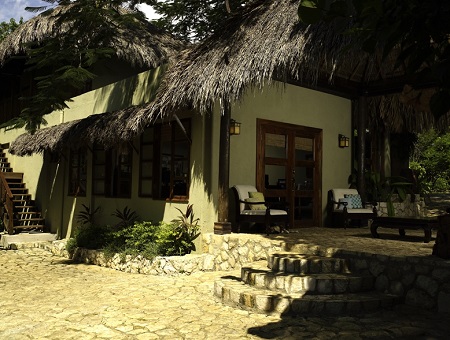 Negril is located along the eastern coast of Jamaica, and hugs the Caribbean Sea. Negril's possesses some of the most beautiful beaches in Jamaica that are along a 3.7 mile long sandbar. This long strip of the western coast of Jamaica has Jamaica's famous, immaculate white sandy beaches that are breathtaking. Along this famous Jamaican coast, you can find a variety of top notch Jamaican resorts. Yet, none of the resorts in Negril are as unique as Tensing Pen.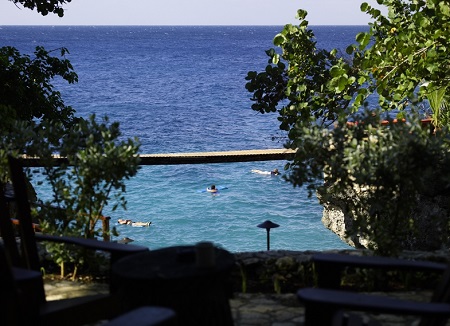 The open-air main dining house brings guest together in an intimate setting overlooking the blue Caribbean Sea. Continental Breakfast is served daily in the main dining house and includes such indulgences as fresh tropical fruits, blue mountain coffee, cereals, toast and local jams. For dinner the Chef prepares Jamaican-style feasts using the finest ingredients and organic-grown vegetables. Daily menus change depending on the seasonal ingredients and local grilled lobster, sweet curried Black River Shrimp, fresh caught fish and traditional jerk chicken are standard fare at the Tensing Pen resort in Jamaica.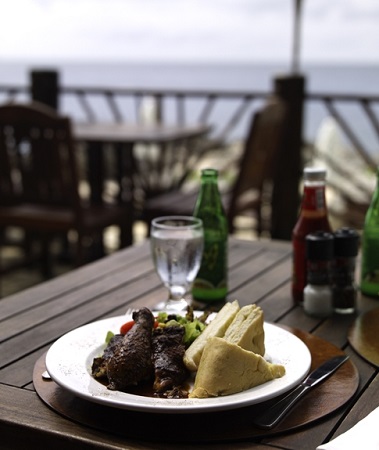 As an incredible boutique resort in Negril, there are a number of activities to fill your day. Some will enjoy the gentle breeze while they relax by the ocean with a good book before spending the afternoon immersed in a world class salon and spa treatment, while the more adventurous guests will do everything from guided tours to snorkeling, mountain biking, scuba diving and parasailing. Each day can be an adventure or a lazy day soaking up the sun and beauty of this breathtaking Jamaican Resort.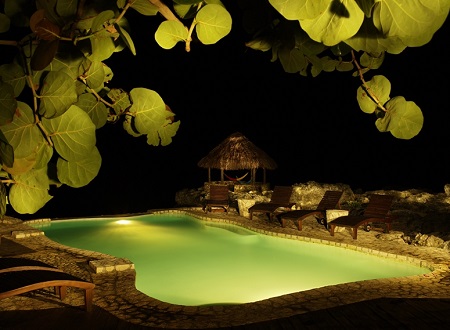 Massage services are offered in our new massage hut on the far north side of the property. Gentle ocean breezes glide across your body as our trained therapists help you to de-stress and truly relax into your vacation.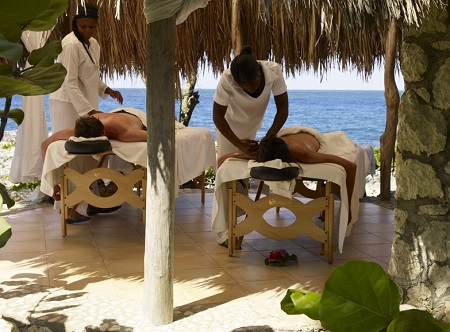 All of our rooms are TV and Phone free, because it's your time to sit back, relax, and let Tensing Pen treat you as our guest. However, if internet or a phone is needed, these items are readily available at our front desk.
Each room is unique, and our location is secluded. Our rooming arrangements consist of high end stone, wood, and thatch cut cottages that really allow you to embrace the Caribbean lifestyle.
Offer based on single/double occupancy in a Garden Cabin Room.
Garden Cabin Room: The Garden Cabin has a large, King sized bed that faces the windows where you can take in the beautiful garden views. The Garden Cabin on the Tensing Pen Resort truly is a spectacular place to stay in Negril, Jamaica.
If you are looking for something larger, upgrades are available:
Garden B for an additional + $40 per room per night: Garden B has a large, open verandah for sitting and taking in the lush surroundings.
Bungalow for an additional+ $40 per room per night: The bungalow also has the ability to be almost completely open.
Garden A for an additional $50 per room per night: The Garden A Tensing Pen room truly encapsulates the Jamaican lifestyle - laid back, tropical, and stress free!
Other rooms available on request.
Stay a minimum of 3 night and up to 14 nights.
Tax and Service Charges are $49 per room per night additional.
All reservations are subject to availability.