Enjoy 7 Nights at the Grand Bliss Riviera Maya by Mayan in Cancun, Mexico!
The resort charges an $11 per person per day resort fee at check-in for all international travelers. This fee is not applicable for children under the age of 12. If you are a Mexican resident please contact the resort directly for resort fee information.
The Grand Bliss Riviera Maya offers a comfortable and luxurious concept in hospitality. Surrounded by the magical local vegetation and the spectacular calm and tranquility of the mangrove during the night, under a sky filled with stars.Serenity and fun, the perfect place to vacation. A unique luxury experience where you will savor every moment of such extraordinary vacation experience. Ample rooms and large open spaces. A resort conceived to thrive within freedom and nature, with a relaxing minimalist touch which combines rest and entertainment to perfection, all this in our impressive facilities: 2 tennis courts, SPA, Gym, travel agency, car rental, babysitting service, medical service, kids club, recreational activities, boutique, 13 restaurants including 2 specialty and one innovative beverage concept: the Bar Chef, unique, natural and delicious blends such as Luxxe Daiquiri, Agave Fields, or Sun and Moon, made with natural ingredients, artisan infusions.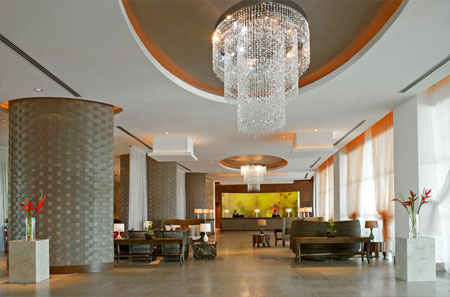 Riviera Maya is a fascinating blend of ancient history and natural tropical beauty. Stroll the white, sandy beaches, relax under the breezy palms or pump up the excitement and try your favorite water sport. During your stay you can visit majestic Mayan ruins in Chichenitza (134 miles), and if you're looking for the nightlife, nearby Cancun (42 miles) is filled with a colorful selection of bars and dance clubs.
Unit Description
The Grand Bliss rooms are spacious and have some of the sleekest interiors you will find in Mexico. The decor is refreshing with its vibrant colors and fine wood tones. Enjoy a Grand Master Room with your family which offers everything one may need during a vacation.
Dates Available: (Availability is subject to change)
The Grand Master Room is a 603 square foot room offering everything you need for a perfect vacation: a king size bed, sleeper sofa, marble shower, whirlpool bathtub, double sink vanity, 42" LCD television and balcony with a breathtaking views.
Accommodates 2 adults and 2 children.
The Following Check-in Dates are Available for a 7 Night Stay in a Grand Master Room!

September 30, 2016
October 14, 21, 28, 2016
November 11, 25, 26, 2016
December 2, 3, 4, 9, 10, 11, 2016
January 20, 27, 2017
February 3, 4, 5, 12, 17, 18, 19, 2017
March 3, 4, 5, 10, 2017


Don't see the date you're looking for? Click below to view and instantly confirm any availability up to one year from today. Just search your date range and destination in SkyAuction.com's NEW Vacation Rental Booking Engine!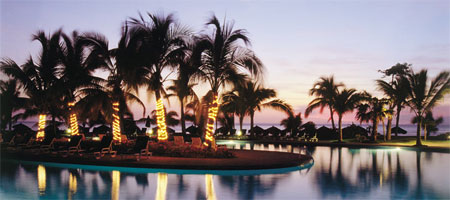 Resort Amenities
Arcade/game room (Onsite)
Bar/lounge (Onsite)
Car Rental (Onsite)
Fitness Center (Onsite)
Jacuzzi/Hot tub (Onsite)
Medical facility (Onsite)
Salon (Onsite)
Spa (Onsite)
Swimming pool (Onsite)
Beach (Onsite)
Boating (Onsite)
Child care (Onsite)
Entertainment / Nightlife (Onsite)
Golf (Onsite)
Scuba Diving (Onsite)
Shopping (Onsite)
Tennis (Onsite)
Resort Fee Includes:

One-way transportation Airport to Hotel (contact concierge 72hrs before check-in), transportation throughout the Resort, local phone calls, basic Internet for 1 device, Gym Access, Press summary, a welcome drink and boarding passes/faxes printing.
Important Information
Fees or deposits are charged for some amenities.
Credit card imprint required upon check-in at the resort.


Note: Spend the weekend or stay the week, the suite is yours for 7 nights. Also, there is no presentation to attend, so all your vacation time is yours to enjoy.