Bid Per Superior Room per Night and Choose Your Length of Stay
thru October 2017
at the Hotel Captain Suizo
in Playa Tamarindo in Costa Rica!
Located on a privileged site, outside of the village, at the end of the bay and right in front of the ocean, our guests can enjoy the warm waters all year round by swimming, surfing, kayaking and other water activities in quiet scenery and just footsteps from the hotel rooms. The long, sandy beach provides for a 4 kilometer walk or a lovely place to simply relax and sunbathe on a beach chair; many guests get inspired and build their own castle.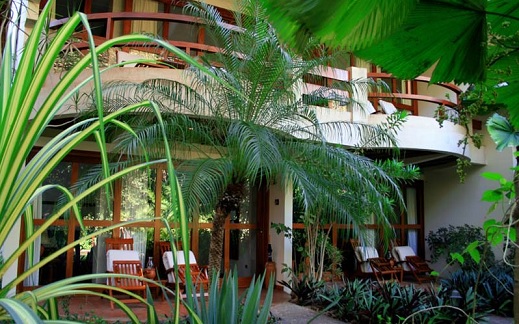 More than a garden
The hotel is an oasis embedded in a large tropical garden with native trees that home a wide variety of wildlife. Being able to live side by side with many different species since the very beginning is like a gift and it is a great pleasure for us to share this treasure with our flora and fauna loving guests. Garden-link
Culinary memories
Our guests are spoiled with modern international cuisine and typical Costa Rican plates served in the relaxing atmosphere of our open air beachfront restaurant, accompanied twice a week by Typical Live Marimba Music during dinner. The Private, Romantic Candle Light dinner on the beach is also an option, thanks to our perfect location, and will allow you to take home a memorable experience.
The highlight of your stay will be the Friday Barbecue Night on the beach with folkloric dances in a special ambience surrounded by tiki torches and the roaring of the sea.
---
Offer is based on single/double occupancy in a Superior Room.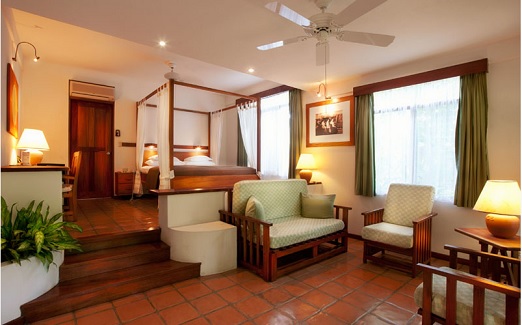 Superior Rooms with air conditioning and Ocean Breeze Superior Rooms
The 11 superior rooms located on the ground floor have air conditioning, a terrace and spacious bathrooms.
The 11 superior rooms located on the upper floor were built on a high level to keep them fresh by means of natural air circulation. They are ideal for people that prefer "a natural life" and they are called "Ocean Breeze Superior Rooms". However, they have been remodeled in such a way that we can offer them with air conditioning as well, for those who prefer it. The environmentally friendly Ocean Breeze option is offered at a better price. All of them have a balcony and spacious bathrooms.
---
Tax and service charges are $49.00 per room per night additional.
Stay a minimum of 1 Nights and up to 4 Nights as desired and based on availability.

Reservations subject to availability.