Bid Per Room Per Night and choose your length of stay anytime
thru November 2018
at the Azulik Hotel & Maya Spa
in Tulum, Mexico!
Azulik Hotel & Maya Spa is an exclusive hotel located in the municipality of Tulum in the beautiful Mexican Caribbean Sea in the state of Quintana Roo, an ideal place to reconnect with ourselves and with our loved ones, by a unique contact with nature. For this we have beautiful Villas, each of them has a specific location to enjoy unforgettable moments, full of serenity and romance in each single detail, that's why we have light of candles and no electricity, another reason why we do not have it, is because the artificial light affects the turtle nesting on our beaches.
To maintain our atmosphere of romance and serenity, the maximum capacity per Villa is 2 people. Azulik is an adult concept, couples, gay-friendly and clothing optional, we don't accept children. For ecological preservation of the beaches, pets are not allowed in the Hotel.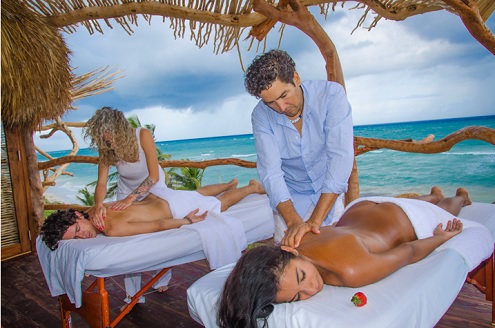 We have a Maya Spa, where we take the energy of the sea and jungle of Tulum, focusing on the ancient Mayan tradition to transmit sensations and experiences full of love and serenity, using the energies of the cardinal points as well as chants, prayers, the sacred sounds of the caracol and the healing power of plants, flowers, aromatherapy and enriched mud we restore the natural state of peace, joy, harmony and health.
Azulik Hotel & Maya Spa awaits you with open arms to share unique experiences creating memories that will last a lifetime.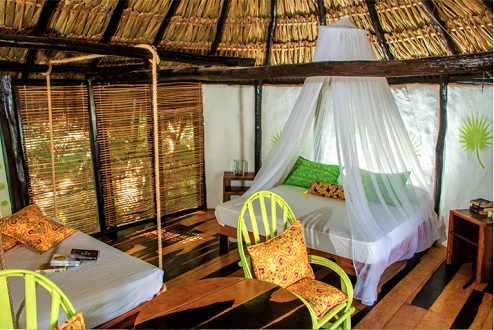 Offer is based on single/double occupancy in a Flow or Spa Villa:

Flow Villa: Lovely cabins located on the top floor, overlooking the beautiful Mayan jungle. Every detail inside invites the romance and reconnection with nature. Let yourself be lulled by the beautiful and magical sounds of the birds that live in the area.
Spa Villa:
Comfortable Villas located on the ground floor, in the lush and beautiful local vegetation. Enjoy unforgettable moments on his private terrace. Breathe and feel the tranquillity of the environment, live the reconnection thanks to the beautiful sounds of nature.

Stay 1 night or up to 5 nights as desired and based on availability.
Tax and service charges of $49.00 per room per night are additional.
Reservations subject to the availability of rooms.