Bid per One Bedroom Chalet per night and Stay
thru May 2018
at Sorobon Beach Resort
on the Island of Bonaire in the Caribbean!
"... one of the only Resorts in the world built ON the beach"
Sorobon Beach Resort is located at Lac Bay, a unique natural bay in the southeast of the friendly and sunny island of Bonaire in the Caribbean Sea. Sorobon Beach Resort offers a unique private sandy beach, complete with shady cabanas and beach beds. The shallow bay is protected from the ocean by an astonishing coral reef that makes the bay very suitable for swimming, snorkeling and windsurfing. The resort is only 6 miles (10 KM) away from Bonaire's International Airport and 9 miles (14 KM) from the city center of Kralendijk, the capital of Bonaire.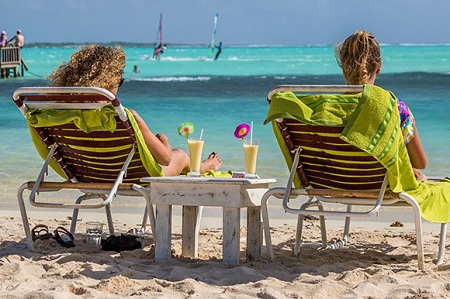 The resort has a private beach with shaded cabannas and lounge chairs. The shallow bay is protected by a coral reef and is ideal for swimmers, snorkelers and windsurfers. The 30 comfortable cottages offer splendid panoramic views of the bay's colorful wildlife both above and below the sea. The staff of Sorobon Beach Resort welcomes you to this island paradise.
Sorobon Beach Resort's private sandy beach is available for all hotel guests. On the beach there are enough beach beds, and a number of cabanas have been installed offering the visitor shady places. Guests receive a beach towel, which can be exchanged for another one after use. Service on the beach is offered by the waiters/waitresses on the beach.
On the beach, a number of kayaks are waiting to be used by guests who want to explore the surrounding Lac Bay.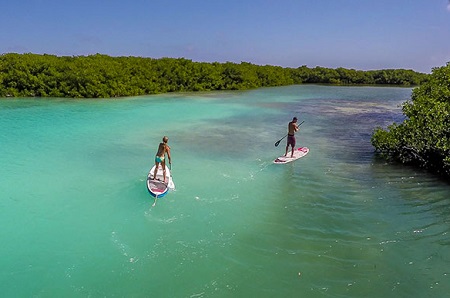 After enjoying a lazy time on the beach and a few days of windsurfing, visitors can also find lots of fun things to do on Bonaire. Enjoy Kite surfing on the islands east side or kayaking through the mangroves. Our mountain biking or walking trails offer nature lovers an ideal way of seeing the island. Of course SCUBA diving or sailing are always a great way to spend the day.
---
Offer is based on a Single or Double Occupancy in a One Bedroom Standard Chalet.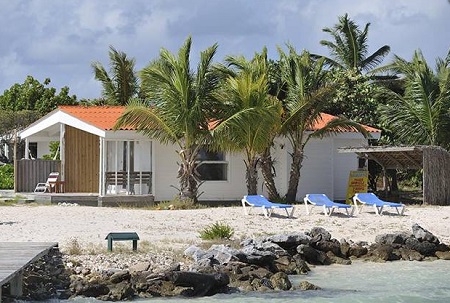 All 1 BR chalets are built ON the beach and offer a queen size bed in the bedroom and are suitable to be occupied by one or two adults. The bathroom offers a shower, basin and toilet. All chalet offer a small refrigerator, kitchen and a stove. There is no television in our accommodations. This is policy of the resort.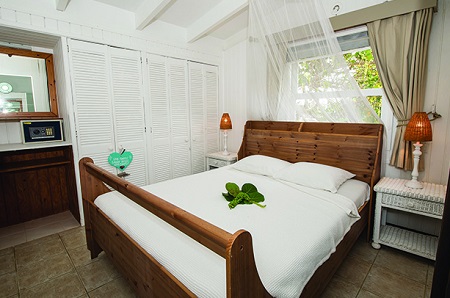 The tranquility of the location and the breathtaking views more than compensate for this. The resort is equipped with wireless high speed internet which allows guests to stay up to date with development in the world. All accommodations are non-smoking.
---
Stay a minimum of 1 night or up to 10 nights.

A tax and service charge of $49 per night is additional.
All reservations are subject to availability.