Bid Per Person Per Night and Stay
July thru October 2017
at the All Inclusive ROYAL CLUB
at Occidental at Xcaret Destination
in Playa Del Carmen, MEXICO!
♦ Located next to the Xcaret eco-archeological park
♦ Exclusive front desk for check-in and check-out with personalized service
♦ Hot tub in all rooms
♦ Exclusive areas for clients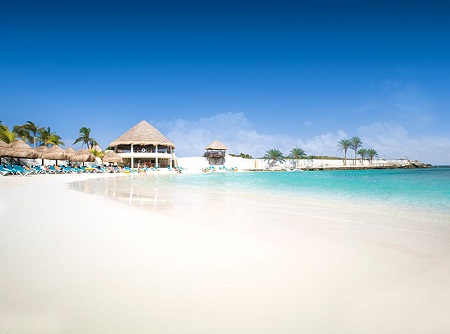 The 5-star ROYAL CLUB at Occidental at Xcaret Destination offers the most exclusive stay and selection of services within the large Occidental at Xcaret Destination complex. A select club located in the middle of a lush rainforest next to the sea, just 1 hour away from the Cancun international airport and 5 minutes from Playa del Carmen.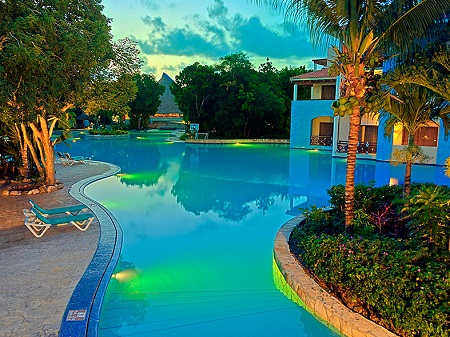 It has been designed so that guests can enjoy a special vacation from the moment they arrive until the very last minute. That's why guests begin and end their stay with a private check-in and check-out service. All rooms also feature a hot tub. These are just 2 service among a long list of exclusive services.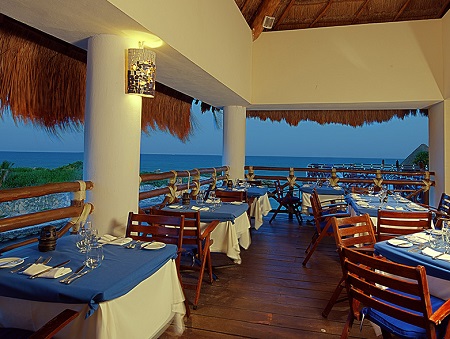 The resort offers each guest, especially if traveling as a family, the chance to visit Xcaret Park, the most important eco-archeological amusement park in Mexico. A traditional boat picks up anyone that wants to go and leads them down the resort canals and rivers to an amusement park filled with attractions and expositions on Mexico.
Free Wi-Fi hotspots in the Royal Club reception area, private pool, nightly turndown service, guest assistance during the day by the Royal Concierge Club, etc. Being a part of this resort for several days means immersing yourself in an infinite variety of advantages and pleasures while surrounded by a natural setting of rainforest and beach that you will not find anywhere else in the world. Because there is no place in the world like the ROYAL CLUB at Occidental at Xcaret Destination.
---
ROYAL CLUB at Occidental at Xcaret Destination All Inclusive Resort is an exclusive area within the Occidental at Xcaret Destination that offers special services and personalized care. Guests will find the most select and spacious rooms with premium services for a luxurious vacation experience in the heart of the Riviera Maya.
Exclusive Services: private access to rooms, personalized check-in and check-out, luxury accommodation and amenities, fruit basket upon arrival, room service from 7:30 a.m. to 10:00 p.m., minibar restocked daily, personalized concierge service, free Wi-Fi and private areas with a jacuzzi.
Offer is based on a Double Occupancy in a ROYAL Level Luxury-Deluxe Room.
Upgrade to ROYAL CLUB Jr. Suite for an additional + $25 per person per night or to ROYAL CLUB Suite for an additional + $55 per person per night.
---
CHILDREN
Children under the age of 2 years are FREE when sharing same room with 2 adults.
Up to Two (2) Children 12 years old or younger are $45 per child per night when sharing a room with 2 Adults
Please submit children's names and dates of birth with your travel information.
EXTRA GUEST:
3rd Guest (13 years old or older) pays the same rate as the first 2 adults (bid, taxes and any surcharges)
Stay a minimum of 3 night or up to 14 nights as desired and based on availability.

Single Supplement: Single Rooms not offered at Royal Club. Please book Occidental at Xcaret Destination Deluxe Room.
Tax and service charges of $49.00 per adult per night are additional.
Reservations are subject to availability.
to book this special offer, all travel dates and names must be
submitted by noon est. on June 30, 2017!