Unfortunately, this low price guaranteed offer has ended. The offer ended: Tuesday, October 31, 2017 11:00 PM
The good news? You can check out hundreds of more deals that you can Bid on or Buy-It-Now, all backed by the SkyAuction Best Price Guarantee.
New to SkyAuction? We are the web's leading travel auction site, offering thousands of super discounts on flights, cruises, hotels, vacation rentals, and more every day. You can register to bid with our simple, secure, fast, and free registration page.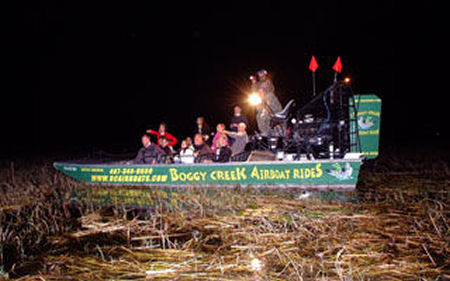 Boggy Creek - Air Boat Rides - Kissimmee, Florida - for One Adult Admission - "Real Florida"
Boggy Creek - Air Boat Rides - Kissimmee, Florida
Description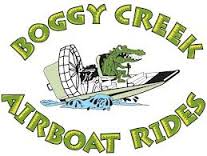 Boggy Airboat Rides

BOGGY CREEK AIRBOAT RIDES
2001 E. Southport Rd.
Kissimmee, Florida 34746
Ride with a certified U.S. Coast Guard Captain and see Florida Alligators, turtles, birds and more in their natural environment. This safe, exciting and educational air boat ride is filled with surprises and fascination. View wildlife on a U.S. Coast Guard Inspected 17 passenger air boat. Each air boat tour is a unique experience and never the same. You will enjoy whisking across the surface of the water at speeds up to 45 mph while shooting between walls of tall grass.
The Longs started Boggy Creek Airboat Rides as the ORIGINAL airboat company in Central Florida with just one six-passenger airboat in 1994. At that time it was unheard of to stay in the Orlando area and take an airboat ride. The Florida Everglades in south Florida are known worldwide as the location to go out on an airboat tour. It took years of talking to journalists, travel agents and customers to open up the awareness that the headwaters to the Florida Everglades actually start right in Orlando. They were able to finally make visitors realize that with their few precious vacation days Boggy Creek's central location still gives them a chance to see the "Real Florida" only minutes from Orlando's attractions.
To make sure each customer has a unique and memorable experience they varied their boat sizes offered and also offered a selection of tours. They understand that although there are now many other operators in Central Florida that visitors can choose from their customers know that it takes more than a boat to operate a great company and return to the Orlando area's first and most experienced tours.
Their fleet of airboats has grown to over eight 17-passenger airboats and four 6-passenger private airboats. Over a million passengers have learned about the Everglades by exploring the Wetlands with Boggy Creek Airboat Rides.
NOTE: The best time to see alligators is early in the morning (before 10:00 AM) during hot weather and later in the day in the cold.
Additional Information:
Admission tickets expire December 1, 2018
Open 9am to 5:30pm Monday through Sunday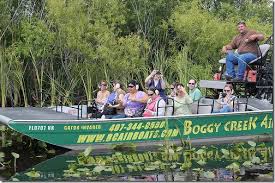 Price is per certificate.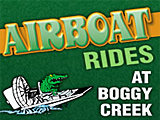 Boggy Creek Airboat Rides
Southport Location
2001 E. Southport Road
Kissimmee, Florida 34746
www.bcairboats.com
Boggy AirBoat Rides
— SOLD OUT!
This ticket is for One person ONLY!
1/2 Hour Boat Ride
Tickets expire 12/1/2018
Resale of these items is strictly forbidden either privately or through any other website. The issuer reserves the right to deny acceptance without recourse of any items deemed to have been obtained in a manner contrary to our terms of sale and any person found to engage in this practice will be refused the right to purchase further items of this type.
Other Details
Anytime within the following date(s):
1/1/2017 thru 4/15/2019
$10
Free Shipping.
Reference: 153576