Bid per Room per Night and Stay
7 Nights
at the Eco Serendib Villa and Spa
in St. John, US Virgin Islands!
Experience Five-Star Luxury In Harmony With Nature
Eco Serendib Villa and Spa…a retreat that will have you revitalized, invigorated and renewed. The views from Eco Serendib Villa and Spa stretch for miles, captivating you with its panorama of the Caribbean Sea's crystal waters and the stunning southern coastline. Watch as the calm waters of Fish Bay change from azure to emerald right before your eyes. Refreshing tropical breezes encourage you to breathe in the natural serenity of St. John.
Whether it is a family gathering, wellness journey, nuptial ceremony or corporate retreat, Eco Serendib Villa and Spa is sure to provide an ultra luxurious, holistic experience of the mind and body.
One may be accustomed to a five star resort, or one may be looking for eco-friendly accommodations. Growing consciousness of environmental responsibility leaves many travelers wondering if they must forsake luxuries and modern conveniences in favor of being eco-friendly. Eco Serendib has found balance with our carefully calculated blending of indulgence and sustainability.
Enjoy a refreshing swim in the villa's salt-infused pool or lounge in teak furniture by Gloster as you take in the never ending views which expand from Fish Bay to Ram Head. What could be a more perfect way to end your day than with a relaxing soak in the villa's hot tub? Located on the pool deck, both our hot tub and pool provide you with the ultimate relaxation during your tropical getaway.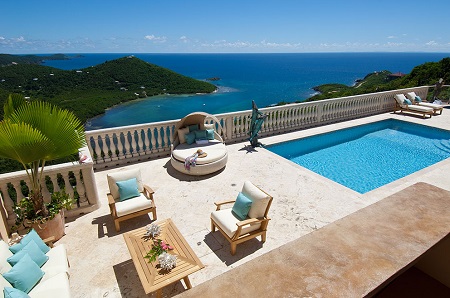 There is no better way to enjoy a meal than eating al fresco, taking in the stunning views and gentle Caribbean breeze. Eco Serendib offers two outdoor dining options, both in covered areas in the shade.
---
Offer is based on a Single or Double Occupancy, maximum 2 Guests, in a Presidential Suite.
The Presidential Suite at Eco Serendib is possibly the most magnificent suite in the U.S. Virgin Islands. The suite is accessed from an interior landing with a hand-carved mahogany staircase leading to an inlaid marble floor. This grand staircase is a bride's dream for photography; the stately full length makeup mirror and dressing area offer plenty of space to get ready. Hanging majestically 24 feet above the floor is a stunning seashell chandelier. A concealed kitchenette area with Sub-Zero refrigerator, microwave and coffee maker, can be found in the grand entrance area, along with a comfortable writing desk.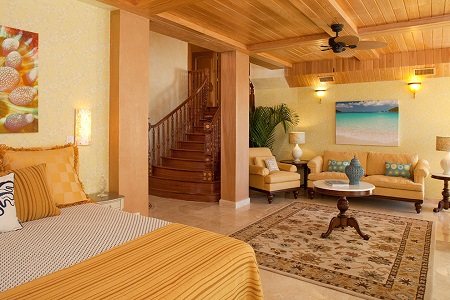 Not only does the Presidential Suite offer the highest level of luxury, but this suite offers utmost privacy, as well. A Cyprus ceiling hangs over the sleeping area creating a cozy feel. This suite, with its private living room is the perfect place to relax. Two sets of French doors lead to the private veranda that has a pair of lounge chairs as well as a private dining table for a romantic dinner for two. There is also a private entrance to the gym off the veranda.
The bathroom suite is not to be overlooked. It contains a rare onyx counter top from Kohler's designer series, Maharani Sinks, which is inspired the exotic Indian culture. The other hard goods in the bathroom are decorated with a special technique that creates raised ruby-like flowers with 24k gold tendrils. A unique "tea for two" chromatherapy bathtub by Kohler has been placed to offer magnificent views of Fish Bay. Perhaps the most unique feature of this tub is the location of the faucet. When designing the bathroom, the owner did not want the dazzling views to be obstructed by a faucet, so the faucet was strategically placed in the ceiling. Not only does this design make for an unobstructed view, but also creates a unique soaking experience as it is visually stunning to see the water gently streaming from the ceiling as you relax in the tub.
A crystal chandelier hangs from the ceiling, lending a touch of elegance. An adjoining room provides a shower, bidet and toilet with large windows that open to breathtaking views.
---
This is unbeatable Value. Rates for the Presidential Suite range from $2500 - $2800 per night plus a mandatory 25% in hotel required tax & service charges. The lowest price available online is $3125 per night!
A tax and service charges are INCLUDED in this offer.