Bid Per Room Per Night and Choose Your Length of Stay
in 2018*
at Your Choice of one of the following
Luxury hotels in Paris, FRANCE!
* NOT VALID during some Major Events happening in Paris in 2018
· Air Show June 17 - June 25
· Fashion week Haute Couture June 30 - July 5
· Première Vision Paris September 17 - 21
· Fashion week September 24 - October 3
· Christmas Holidays December 24 - December 25
---
---
Belmont Champs Elysees

---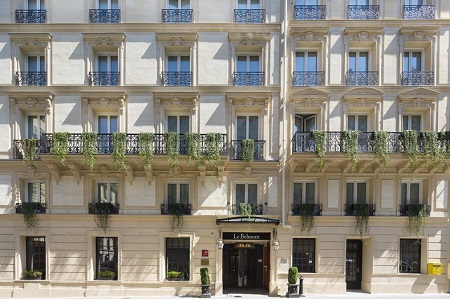 Belmont Champs Elysees
Belmont Champs Elysees is an ideal hotel for a stay in the city of light with luxury conveniences and unbeatable location. Sitting just minutes away from the hotel is the upscale shopping on Champ Elysees, the historic Arc de Triomphe, and the legendary Eiffel Tower, with other cultural attractions and landmarks easily reached by a short drive. The recently remodeled property offers 74 guestrooms and suites are designed with marble, fine woods, and lavish linens to offer a peaceful retreat in the city. Belmont Champs Elysees boasts THE BAR and THE PARLOR to unwind after a day in the lively city. The venues offer an extensive menu of cocktails, French wines and champagnes, and matured spirits. For a perfect Paris hotel, book a stay with Belmont Champs Elysees.
At Belmont Champs Elysees, Classic Double Room w-Shower or Bath.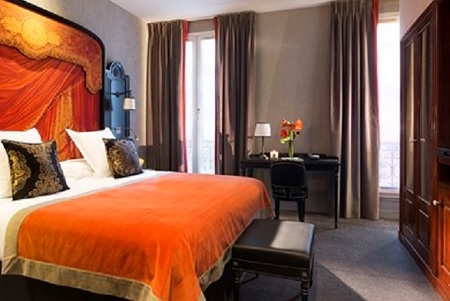 Classic Double Room w-Shower or Bath (1 double bed or twin bed - 2 people maximum -soundproof -mini bar -Japanese toilets -shower or bath -safe -hair dryer -welcome tray with tea or coffee -air-conditioning -non-smoking -king size bed (180 cm) or twin beds (90 cm) -32" flat screen TV Area: 18-20 m² No smoking Air conditioning Minibar Soundproofed Safe Disabled amenities Telephone Private bathroom Hair dryer Shower Bath Flat-screen TV Wireless Internet access Radio Alarm
---
---
L'Empire Paris
- only four (4) nights left -

---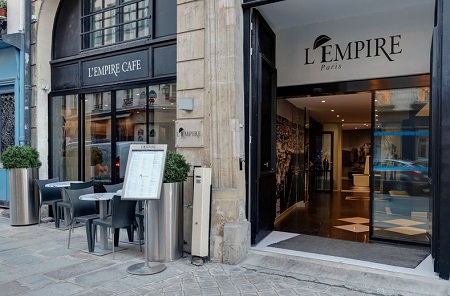 L'Empire Paris
A Napoleonic residence turned into a luxury boutique design hotel, L'Empire Paris enjoys a prime location steps from the Musée du Louvre and Tuileries Gardens. The four-star hotel's 42 spacious and soothing guestrooms are decorated with bold graphics and pops of color, and feature fine linens, spa-like bathrooms and warm oak floors. L'Empire Paris' spa, sauna, and hammam await weary travelers looking for blissful rejuvenation, and the hotel's café is open 24 hours a day, making this 18th-century hotel the ideal Parisian resting spot for business or leisure travelers.
At L'Empire Paris, Classic Room, Classic King or Twin Room- 2 persons maximum-20sqm-220ft - Free wifi- -Minibar- Coffee Facilities -Dock Ipod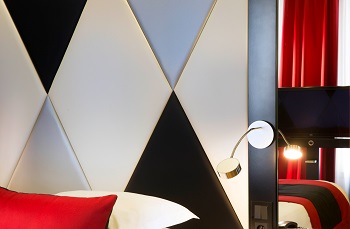 The Classic Room with wood floor is around 20 SQM / 220 Ft. It features one King Size Bed (or Two Twin beds on request ), Bathtub or Shower, slippers and bathrobes, Fair Trade amenities, FREE Wifi, Safety box, Air conditioning, Courtyard view. Suitable for 2 persons maximum
---
---
Les Jardins du Marais
---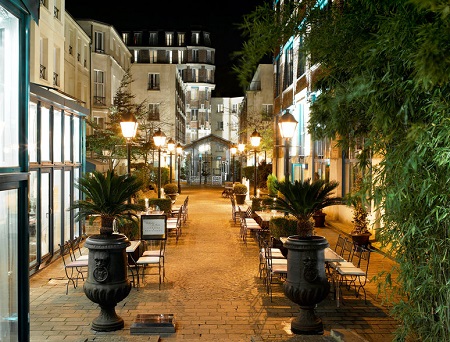 Les Jardins du Marais
Remarkable décor, elegant furnishings, stunning views of private gardens, and Art Deco style are just some of the highlights at Les Jardins du Marais, a luxury boutique hotel in Paris' chic Le Marais neighborhood. Stay in one of the contemporary guestrooms, dine at the modern light-filled French restaurant, or relax in the private courtyard gardens, one of the most expansive private gardens in Paris.
At Les Jardins du Marais, Classic room, 15 sqm room with a double bed overlooking the courtyard garden. Free Wifi.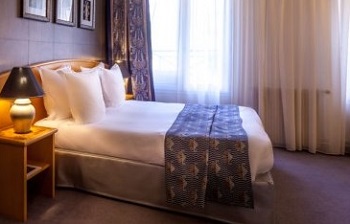 Classic room
2 persons
One double bed width 140 cm
Free Wi-Fi access
Inspired by Gustave Eiffel, this room looks out over the courtyard garden. Soundproof and air-conditioned, it has an elegant marbled bathroom.
---
---
Hotel de Vigny
---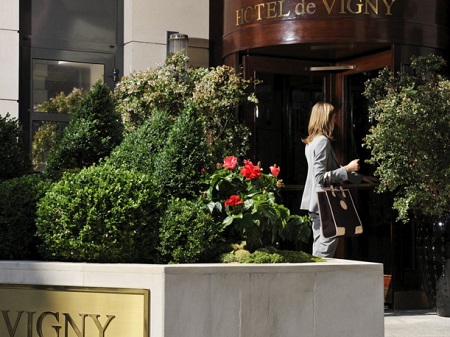 Hotel de Vigny
Set in a quiet section of Paris' prestigious 8th Arrondissement just off the famed Champs-Elysées and near the Arc de Triomphe, Hotel de Vigny is a five-star boutique hotel that provides unparalleled service in traditional Parisian style. Guests at Hotel de Vigny enjoy luxuriously designed rooms that provide a welcome respite after busy days spent sightseeing or shopping. The hotel is home to one of Paris' best Italian restaurants, Penati al Baretto, where diners are treated to contemporary Italian cuisine that highlights Italy's diverse culinary styles.
At Hotel de Vigny, Executive Room, Executive Room- 22Sqm- Max 2Pers- Queen Bed- Twin Beds On Request- Air-Conditioning- Wifi.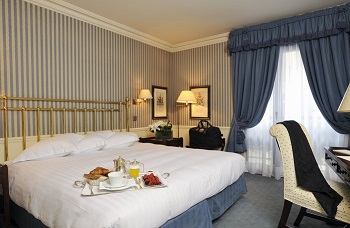 Executive Room- 22Sqm- Max 2Pers- Queen Bed- Twin Beds On Request- Air-Conditioning- Wifi- Bathrobe-Slippers- Minibar- 24Hr Room Service
---
---
Hotel Mayfair
- only seven (7) nights left -
---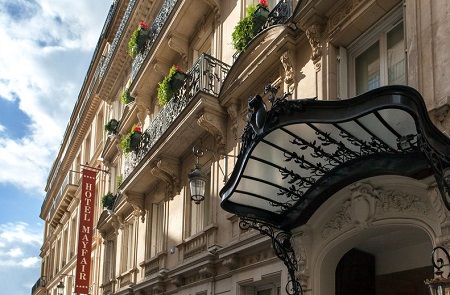 Hotel Mayfair
Settled between Place de La Concorde and Place Vendôme, Hotel Mayfair is a luxury hotel with a stunning Haussmann façade. Designed to represent a 19th-century home, the hotel's opulent guestrooms are outfitted with rich furnishings, soft lighting, and luxury fabrics. Hotel Mayfair is in a prime location in Paris' historic 1st Arrondissement that appeals to those traveling for both business and pleasure. Just across the street from the famed Tuileries Gardens, the hotel also is within walking distance of the Musée du Louvre, Musée d'Orsay, and the Champs-Elysées.
At Hotel Mayfair, Classic Room, Double bed or 2 single beds - 20sqm - Maximum 2 persons.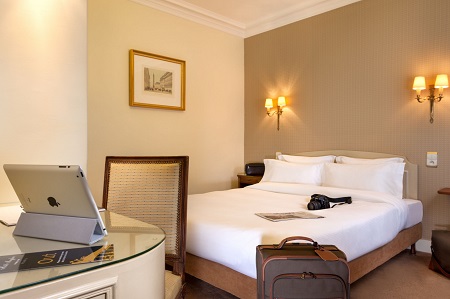 Classic Room - Double bed or 2 single beds - 20sqm - Maximum 2 persons - LCD TV - Air-conditioning - Radio Alarm Clock - Minibar - Safe - Desk
---
---
Mon Hotel
- only two (2) nights left -
---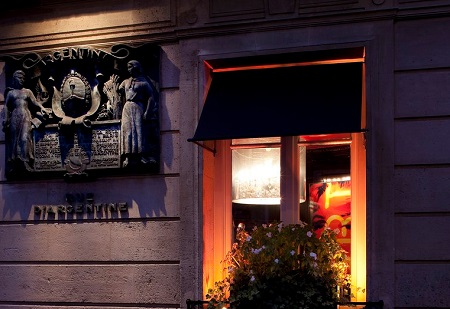 Mon Hotel
Tantalizingly close to the Arc de Triomphe in a stately townhouse with wrought-iron balconies, Mon Hotel's Haussmann façade conceals an opulent modern interior. Designed by Aurélia Santoni, the four-star boutique hotel features chandeliers by luxury Murano glass designer Veronese, and Dutch design firm Moooi. Each floor of the hotel displays a different accent color, including bright red, cerulean, orange, and pistachio. Pop art and Philippe Starck lamps adorn the comfortable guestrooms filled with modern amenities. The atmospheric restaurant and bar, Le Daniel's, delivers expertly mixed cocktails and tapas in a lush setting with ambient music and velvet seating.
At Mon Hotel, Premium Room, Queen Bed - 15 to 18sqm - Loewe Lcd Tv- Ipod Station- Classic Bathroom.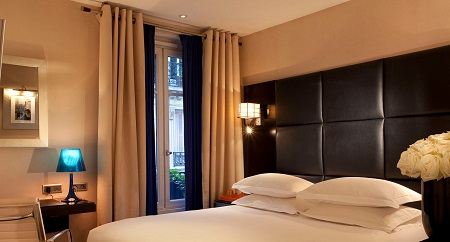 Premium Room- Queen bed - between 15 and 18sqm - Overlooking Quiet Street-Lcd Tv-Ipod Station- Marble Bathroom with bath, shower and Compagnie de Provence amenities - Alcantara leather wall - work desk with a Starck Lamp and ALUMINIUM GROUP Chair from Charles and Ray Eames - Welcome tray - Safe - Minibar - Parisian Balcony with a nice view on a quiet street.
---
---
Hotel Napoleon Paris
- only four (4) nights left -
---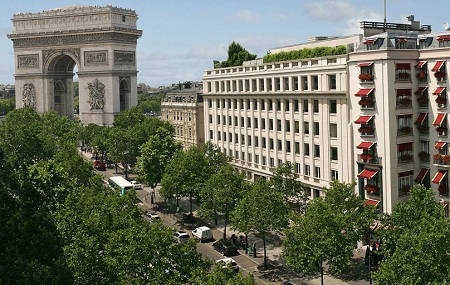 Having once hosted such luminaries as Errol Flynn, Orson Welles, and Jean Gabin, Hotel Napoleon is full of history. The luxury five-star hotel has a romantic past that permeates the property to this day. In the late 1920s, a wealthy Russian entrepreneur met a young Parisian woman at a literary fair and they fell in love. The pair married and the entrepreneur gave his bride the 8th Arrondissement hotel as a cherished wedding gift. The couple resided at the hotel for the rest of their lives.
At Hotel Napoleon Paris, Classic Room, they have safe, mini bar, ipod stations, marble bathrooms, bathrobes.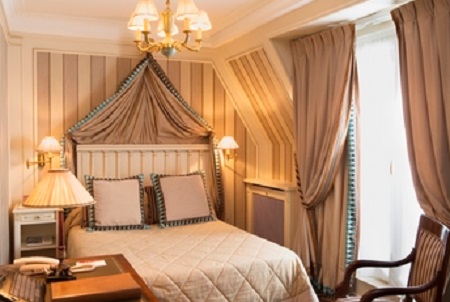 Hotel Napoleon Paris, Classic Room
All the rooms are Empire style, all different the one from the other. Flat screens in all the bedrooms with 80 channels. Wifi .
---
Stay a minimum of 1 Night or up to 10 Nights as desired and based on availability.
Offer is based on a Single or Double Occupancy in Room Categories as described above.

Inventory is very limited. Auction Winners are advised to submit their preferred travel dates upon winning of the auction.

Tax and service charges are $49.00 per room per night additional.

Reservations subject to availability.