This auction has ended without any winners.
Unfortunately, this offer has ended. The offer ended: Friday, October 13, 2017 11:00 PM
The good news? You can check out hundreds of more deals that you can Bid on or Buy-It-Now.
New to SkyAuction? We are the web's leading travel auction site, offering thousands of super discounts on flights, cruises, hotels, vacation rentals, and more every day. You can register to bid with our simple, secure, fast, and free registration page.
Item Description
7 nights in a 2 BR Unit at the Lake Condominiums at Big Sky in Big Sky, Montana for November 11, 2017
---
Item #:
2849911
This offer is for a 2 bedroom unit with a full kitchen sleeping up to 8 people.
Winner will have their credit card charged immediately upon completion of the auction and documents will be sent via email! Winner must have a valid credit card on file at the end of the auction or they risk losing the room.
Highlights
The resort is located at the base of 11,166-foot Lone Mountain, which offers on-site activities and nature at its finest in the areas of Gallatin National Forest and Yellowstone National Park. In summer, an 18-hole golf course, white water rafting, mountain bicycling, horse back riding, and chairlift rides offer activities for all tastes. Winter snows bring skiing to Big Sky. Snow skiing begins Thanksgiving Day based on snowfall and ends mid-April. The slopes for down hill skiing are accessible by lifts, high speed quads, trams, and surface tows. Wild life is in the area.
Additional Information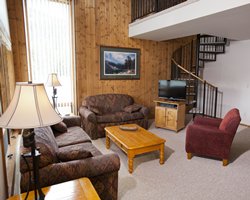 Your accommodations at Lake Condominiums
at Big Sky feature amenities including one
television, washer/dryer, fireplaces and
a microwave. There is no elevator. 2BR
units OCC: Max 6/Pri 6 have 1.75 or 2
baths and usually have 1 king bed, 1 queen
bed and a double sleep sofa. 2BR units
with loft OCC: Max 8/Pri 6 have 1.75 or 2
baths, 1 king bed, 1 queen bed, 1 double
bed and a double sleep sofa. **No pets
allowed. Resort imposes a US$400 fine for
any violations. The property is
extensive and some amenities are a few
miles from the units, however, downhill
skiing and the ski school are within 2
blocks from the units. The main hotel and
resort area close 10/8/11 and reopen
11/22/11 for skiing. For down time, you
can find restaurants in Meadow Village
only 6 mi from resort. Yellowstone closes
for auto traffic on 11/5/07 and opens mid
December for snowmobile/snowcoach. A car
is necessary to enjoy area. The resort is
at 7,500 ft. and is not recommended for
those with heart conditions or breathing
difficulties.
Unit Amenities
Amenities in All Units
Telephone
Kitchen (Full)
Fireplace - Unit
Carpet
Washer/dryer
Dishwasher
Microwave
Resort Amenities
On-Site
Lake
Fishing
Swimming Pool
Whirlpool/hot Tub
Nearby
Downhill Skiing
Ski School
Tennis
Exercise Equipment
Live Entertainment
Laundry
Medical Facilities
Restaurant
Off-Site
Cross-country Skiing (5.0 miles)
Grocery Store (6.0 miles)
Golf (6.0 miles)
Horseback Riding (10.0 miles)
Urgent Information
Effective
Message
12/17/96
No Pets Are Allowed. Violators Pay A $400 Fee.
This Is A Non Smoking Resort.
There Are Three Levels And No Elevators.
The Altitude Is 7500 Feet And Not Recommended For Those
With Heart Conditions Or Breathing Problems.
4/29/94
The Activities Are Seasonal. Call The Resort For Details.
3/27/95
Restaurants Are Found In Meadow Village, Which Is 6 Miles.
---
Bid price is per unit.
Travel Details
Anytime within the following date(s):
11/11/2017
Anytime within the following date(s):
11/18/2017
7 nights.
$299 additional per unit
$20
---
Please note: The rank of bidders is listed by the best price, greatest quantity, date the item was bid on, and the time the bid was placed. Winning bidders will be displayed! All times are EST.
*The AutoBid feature is an optional feature which allows you to place a blanket bid on an item. This way you do not have to be present to raise your bid to the next acceptable bid level should someone else outbid you. If someone outbids you, the AutoBid acts as your agent and raises your bid to the next acceptable winning bid. This will continue until your AutoBid limit is reached. In the event of ties, the AutoBid is the winning bid.
Reference #: 156632