Bid per Room per Night
and choose your length of Stay
thru November 2018
at Amber Sunset Jungle Resort
in pristine rainforest in the Cayo District,
2 Hours from Belize City, Belize!
A complete jungle experience
Sleep in a rustic treehouse, wake up to the chirping of exotic tropical birds, and treat yourself to the best adventure experiences Belize has to offer. Welcome to Amber Sunset Jungle Resort.
In 2010, the 28-acre privately owned section of rainforest near the village of Unitedville that was to become the Amber Sunset Jungle Resort was an untamed wilderness with no access road, electricity, or municipal water connection. Today, the Amber Sunset Jungle Lodge is an oasis of comfort and luxury that offers a uniquely immersive experience of the surrounding jungle.
The Amber Sunset Jungle Resort is a small resort situated on 28 acres of privately-owned, pristine rainforest in the Cayo District. It has been crafted from locally sourced hardwoods, river stones, and sustainable materials to give guests a truly natural jungle experience. The resort's central proximity to Belize's major attractions means guests get to spend more time exploring and less time getting there. There's a restaurant, bar and pool on-site.
Wild Things Bar and Pool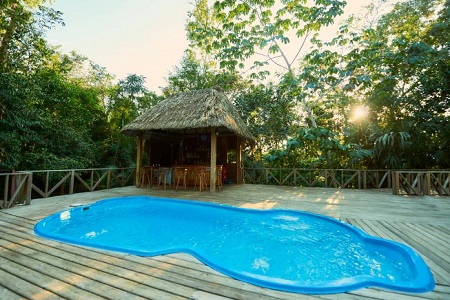 Enjoy a refreshing swim in our freshwater pool or simply relax and work on your tan poolside while sipping on our wide assortment of fresh-squeezed juices, soft drinks, beers, and cocktails. Snacks are also served under the traditional thatched roof of the bar, making this area of the Amber Sunset Jungle Resort the perfect place to unwind and swap stories about your adventures in Belize.
The Jungle Pot Restaurant
If the fresh air and great outdoors has whetted your appetite, the Jungle Pot is the perfect place to enjoy delicious, homecooked meals. Situated high up on a hill underneath a traditional thatched roof, the Jungle Pot has comfortable pub-style tables and chairs arranged on a beautiful garden terrace with a lovely view of the surrounding nature. And don't forget to try one of our signature drinks at the Wild Things Bar & Pool!
Hiking Trails
The Amber Sunset Resort was designed from the ground up to give guests an intimate experience of the surrounding rainforest. Enjoy one of our nature trails that are perfect for bird watching and spotting some of the exotic wildlife that makes Belize so special. The trails are suitable for guests of all fitness levels and a great way to learn more about the unique flora in Belize, including indigenous hardwoods like mahogany, orchids, epiphytes, and an astonishing array of colorful flowering plants.
---
Offer is based on single or double occupancy in a Family Treehouse Accommodations for 3-6.
If you're traveling as a family or want the perfect accommodation for 3-6 people, our three-story family treehouse is perfect for you.
Each family treehouse is named for one of the diverse ethnic groups in Belize and features modern amenities in a gorgeous treetop house offering an unparalleled panorama of the surrounding jungle. All of our treehouses are handcrafted from locally sourced materials, including native hardwoods and river stones underneath a traditional thatched roof.

Ground floor – 1 King sized bed and screened-in patio.
Second floor – 1 Queen sized bed and screened-in verandah.
Third floor – Loft with two twin beds.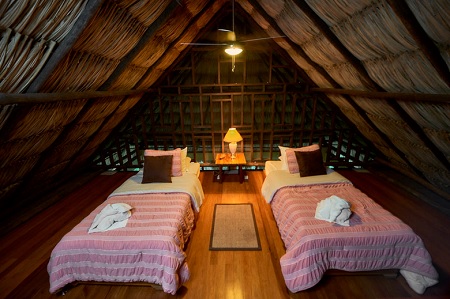 The two screened-in lounges are the ultimate way to marvel at the birds and rainforest wildlife in perfect comfort and luxury.

Amenities
When you stay at one of our unique family treehouses, you will enjoy:
High thread count genuine Egyptian cotton linens.
An indoor shower with hot water.
A hammock, ideal for curling up in with a good book.
Outdoor shower ideal for cooling off on a hot day.
A private, immersive experience of the surrounding jungle.
Ceiling fan for comfort.
Local artwork, handicrafts, and interior decoration.
Complimentary bottled water.
Complimentary coffee and tea.
---
A tax and service charge of $49.- per night is additional.
All reservations are subject to availability.
Transfers to the resort are NOT included.