Train, play and live unleashed with Pump, the ultimate multi-sport wireless headphone. A rugged, military-grade design keeps water and debris out, protecting the premium audio components tuned to let the beat set the pace. No matter how hard you go or how tough the conditions, move with freedom and confidence and let nothing limit where the music takes you.
Energize Your Audio
Pump redefines Bluetooth audio, creating an audiophile-grade music experience that cannot be matched by wireless rivals. We call this breakthrough experience: Energize HD Audio.
Ready for the Hardest Workout
Teflon coating and Kevlar shielding block water, salt, dust, and sweat from entering the Pump, making it more rugged and longer lasting.
Stays on When Others Let Go
With Pump's Superfit System, no matter how hard you go, they won't budge. They stay with you during rigorious activity, allowing you to train and play with complete freedom and confidence.
Comfort to Push Through That Extra Mile
Pump's lightwight design, consisting of soft rubberized casing, prevents chafing behind and inside the ear during intense movement. Combined with ComfortSeal and Awareness tips that reduce listening fatigue and all you to stay in tune with your surroundings, the ergonomic design provides a natural feel that compliments the head instead of competing with it.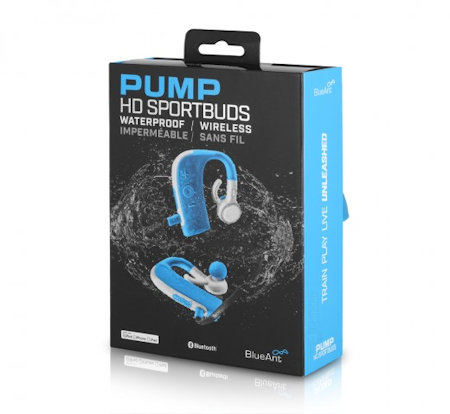 Specifications
Product Dimensions: 5.9 x 4.6 x 2.1 inches
Item Weight: 1.12 ounces
Manufacturer: BlueAnt Wireless Contract
Item Model Number: PUMP-BL
Batteries: 1 Lithium Polymer batteries required (included)
Play Time: up to 8 hours
Standby Time: 2 weeks
Charge Time: 2 Hours
Watertight mesh
Secure fit for intense activity
Independent audio controls
Teflon and Kevlar moisture guard
Micro-USB charging
Condition: New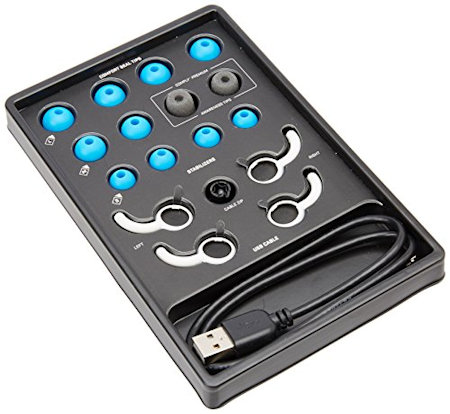 Shipping