Experience a Taste of Mexican History and Culture!
Bid per Night and stay anytime
in 2019
at your Choice of the Quinta Real Resorts Collection
in Mexico!

When Quinta Real was born 19 years ago in the city of Guadalajara, it introduced a concept that was different from anything that had been offered in Mexico by the large hotels. More than a traditional hotel chain, Quinta Real is an exclusive collection of hotels, each with its own special character.
Visitors are especially impressed by our high standards of service and quality. The finest Mexican and international cuisine, outstanding comforts and amenities, along with Quinta Real's signature warm welcome and personalized attention are evident from the very moment guests arrive at each and every hotel in our collection.
All Quinta Real hotels embody the culture, traditions and architectural values of the destination in which they are located and highlight the best of Mexico, incorporating its colors and textures along with regional materials in the buildings and their décor. They are a showcase for the most refined examples of the country's art, handicrafts and furnishing.
---
---
Quinta Real Acapulco
Now Sold Out
---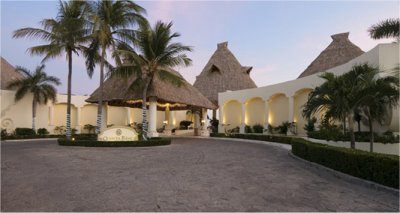 Quinta Real Acapulco

Quinta Real Acapulco has been recognized as one of Mexico's premier hotels every since it opened in 1998. It is renowned for its warm hospitality, unparalleled service, exquisite accommodations, superb dining, cutting-edge spa and unequaled amenities. The stunning five-story property is poised on an 80-foot cliff that rises above a delightful beach, sharing its perch with a few multi-million dollar homes and condos. Created as a retreat for the utter relaxation of body and spirit.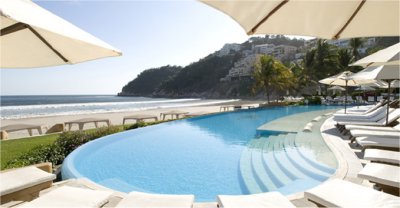 Quinta Real Acapulco
What makes the Quinta Real experience different is evident from the time guests arrive. Check-in is under a glorious 60-foot-tall thatched roof, at a hand-carved, hand-painted desk, and guests are greeted with a moist scented towel and a frosty glass of sparkling wine. Quinta Real Acapulco offers an innovative combination of modern Mexican style and tropical décor, a blend of luxury and simplicity designed for those who appreciate elegance and comfort. A stone stairway meanders down the cliff from street level, through gardens with trees, plants and flowers so perfectly placed that they seem like a great work of art. It passes the lobby bar, gourmet restaurant and suites, alongside the spa and fitness room, and then snakes down to the hotel's Beach Club which features an infinity pool, wading pool, Acapulco's inviting beach.
Accommodations at Quinta Real Acapulco provided in Master Suite 1 King Bed or Master Suite 2 Double Beds.
Spacious Baths with Jacuzzi and separate Shower
Balcony
Ocean view
---
---
Quinta Real Huatulco
- 3 Nights Left -

---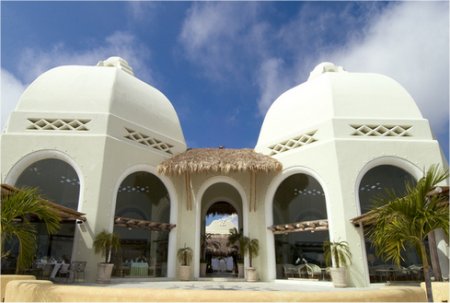 Quinta Real Huatulco
Inspired by The Arabian Nights, this oasis of tranquility and privacy, poised on a hillside overlooking Tangolunda Bay is, without doubt, Huatulco's most romantic hotel. The collection of 28 suites is housed in whitewashed structures that combine curvy Moorish domes and thatched palapa roofs, each with a balcony or terrace designed to entice weary travelers to gaze out over the ocean and dream of the wonders that lie ahead. Staircases lined with graceful palm trees and endless rows of bright yellow hibiscus meander through the property and down to the infinity swimming pools and the hotel's private beach club.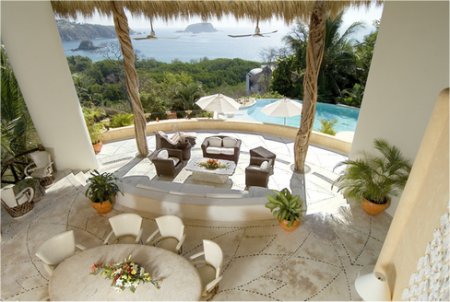 Quinta Real Huatulco
Quinta Real Huatulco's two 90-foot domes have become symbolic beacons to those seeking total relaxation. Guests can sense the soothing atmosphere from the moment they arrive, when they are welcomed with a moist scented towel and a refreshing glass of sparkling wine. They quickly succumb to the magic of the hotel, whose spacious design creates the sensation of escape and intimacy, making guests feel that they are the only ones around.
Accommodations at Quinta Real Huatulco provided in Standard Room.
---
---
Quinta Real Oaxaca
---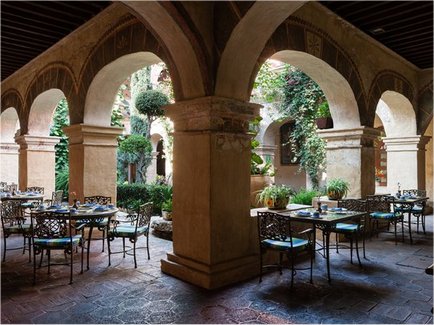 Quinta Real Oaxaca
Nestled in a region rich in history and culture, Quinta Real Oaxaca is in The Historic Center of Oaxaca, an area noted for its beauty and declared a World Heritage Site by UNESCO since 1987. Its lovely gardens adorned with terraces, fountains, and arches make it the ideal venue for enchanting vacations and destination weddings alike. Built in 1576 as the Convent of Santa Catalina de Siena, this stunning luxury hotel retains its original frescoes and tile floor designs restored to their original splendor. Enjoy beautifully appointed rooms, each one unique, with authentic colonial touches and lovely views on the gardens and flowers of the internal patios or the charming streets of the historic center.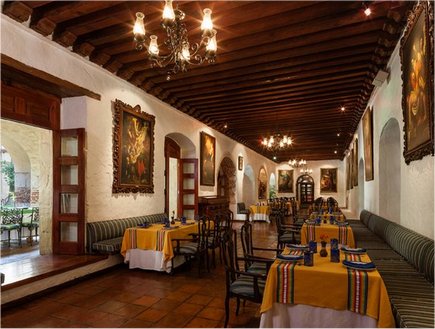 Quinta Real Oaxaca
Quinta Real Oaxaca features 91 rooms — each with an authentic colonial touch and most with an amazing view to the charming streets of The Historic Center or to the lovely gardens and flowers of the internal patios. Each room includes a king-size or two double beds, wireless Internet at a fee, and a safe box. Baby cribs are available for families.
Accommodations at Quinta Real Oaxaca provided in Standard Room.
---
---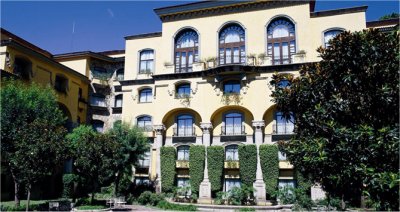 Quinta Real Monterrey

Set against a dramatic backdrop of mountains and a cobalt blue sky, Quinta Real Monterrey is a haven of elegance and tranquility in one of Mexico's most dynamic cities. Renowned as being the most refined address in town, this deluxe hotel is designed to meet, and even surpass, the standards of the most exigent business or leisure travelers. Conveniently located, it is just 35 minutes from the Mariano Escobedo Airport, and 15 minutes from the Cintermex Expo and Fair Center and downtown Monterrey, where you will find outstanding museums and the great nightlife of the Old Quarter.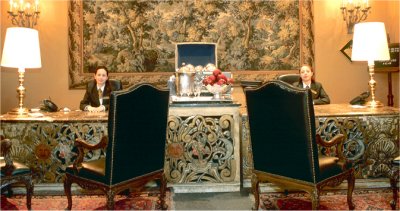 The hotel's exclusivity and refinement are evident from the moment guests pull up to the entrance and see the elegant, colonial-style building, beautifully tended grounds, and fountains. Climbing the marble staircase to the spectacular lobby, they enter a space that evokes the lavish sitting room of an elegant 18th century country estate, but with all the comforts of a contemporary, modern hotel. Quiet and serene, it is decorated with Queen Anne chairs, hand-carved, museum-worthy archangels and horses, extravagantly arranged bowls of fresh cut flowers, stone pillars, wooden paneling, palms and antique chests. Playful angels look down from the stunning mural that adorns the cupola. Check-in is at a hand-carved, antique desk, where guests are greeted with the traditional Quinta Real welcome cocktail.
Accommodations at Quinta Real Monterrey provided in Standard Room.
---
Stay a minimum of 1 Night or up to 7 Nights as desired and based on availability.
Inventory is very limited. Auction Winners are advised to submit their preferred travel dates upon winning of the auction.

Reservations subject to availability.