Enjoy 7 nights at Mayan Palace Puerto Penasco in Puerto Penasco, Mexico!

** Resort charges an amenities fee of $252 USD for a 1 Bedroom Suite per unit per week and $420 USD for a 2 Bedroom Suite per unit per week. **
Enjoy all of the activities that Mayan Palace Puerto Penasco has to offer. Play tennis or work out in our fully equipped gym. Enjoy a facial or relaxing massage at our professional spa, home to the ultimate techniques in rejuvenating body and soul. Enjoy the best meals at our one-of-a-kind ocean view restaurant. Don't miss the local shrimp, a true delicacy. Then visit the moon-like craters in the Pinacate Desert, where NASA astronauts are trained.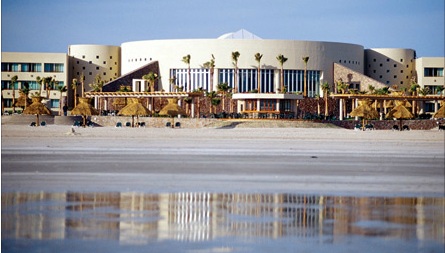 Puerto Peñasco is a peaceful place with a delightful variety of things to do. Stroll along the streets and beaches, shop for souvenirs and haggle with the street vendors, take a twilight cruise, or spend time digging for clams. You can even visit the moon-like craters in Pinacate Desert, where from 1965 to 1970 NASA astronauts trained for their lunar excursions.
Unit Description
At Mayan Palace Puerto Peñasco you have your choice of spacious and comfortable units. Hotel Units sleep two, and one-bedroom units sleep up to five and include a kitchen with microwave. Each unit is air conditioned and equipped with cable TV, ceiling fans, international telephone with voicemail, dining table, drinking water, electronic safe, iron and ironing board, room service and marble bathroom including a tub/shower and hairdryer.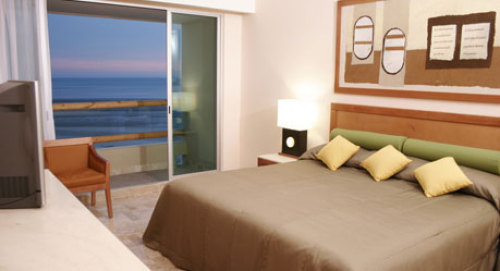 Dates Available: (Availability is subject to change)
1 BEDROOM SUITE
Enjoy the extra space that the Suite has to offer--like the Master Room but with an additional living area, with 2 Sofa Beds facing a second television, and a kitchen and dining area for "eat-in" nights. Both the bedroom and the living room have private outside terraces.
The 1 Bedroom Suite accommodates 4-5 people comfortably.
The Following Check-in Dates are Available for a 7 Night Stay!

January 3, 4, 9, 10, 11, 12, 16, 17, 18, 19, 23, 24, 25, 26, 2020
February 1, 2, 6, 7, 8, 9, 13, 14, 15, 16, 20, 21, 22, 23, 27, 28, 29, 2020


OR UPGRADE TO A MASTER SUITE FOR ONLY $125.00 FOR THE ENTIRE WEEK!!
MASTER SUITE
This floor plan is essentially the Suite plus. The Master Suite has 2 full bedrooms, 2 full bathrooms, a living area, a kitchen and dining area, and 3 private terraces. The rooms have connecting double doors that can allow as much privacy as you wish. The living area can become the nightly game room, a child's bedroom on the pull-out couch, or just a place to curl up and watch a movie.
The Master Suite is great for large families of 4-8.
The Following Check-in Dates are Available for a 7 Night Stay!

—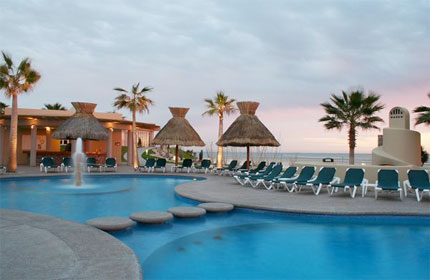 IMPORTANT INFORMATION
Fees or deposits are charged for some amenities.

Note: Spend the weekend or stay the week, the suite is yours for 7 nights. Also, there is no presentation to attend, so all your vacation time is yours to enjoy.