Shark Press & Refresh Garment Care System GS500 - Remanufactured

Shark Press & Refresh Garment Care System GS500 - Remanufactured

---

Item #:

3319920




Shark Press & Refresh Garment Care System GS500 - Remanufactured

The Shark Press & Refresh Garment Care System is a revolutionary new way to bring your fabrics back to life, reducing the number of trips to the dry cleaners and refreshing all the fabrics in your home.

Shark Professional Steam deeply penetrates fibers to relax wrinkles, remove odors, and renew fibers. The Exclusive Heated Wrinkle Eraser replicates the soleplate of an iron to dry fibers to prevent re-wrinkling while leaving a pressed finish. The vertical press pad creates a vertical ironing board on any door in your home making it easy for quick touch ups when you need them without the hassle of setting up a traditional ironing board. The Garment Care System also comes with an array of frame attachments, bonnets, and Velcro clips to provide the best results for all your fabric needs.

Shipping:
Shipping and handling is $15.00 within the 48 continental United States. An additional fee of $25.00 will apply for delivery to Hawaii, Alaska, Puerto Rico and Canada. We will be unable to accommodate deliveries to any other international destinations.

Bid price is per item.


Item Number
3319920
List Price:
$79.99

Minimum Bid

$9


Quantity Available

1

End Date

07/08/2020
8:00 PM EDT

Item ends in:

--:--:--

The auction closing time will be extended by 3 minutes whenever a new bid is submitted within the last 3 minutes of the end of the auction, up to a maximum of 1 hour.







Shark® Press & Refresh® Garment Care System GS500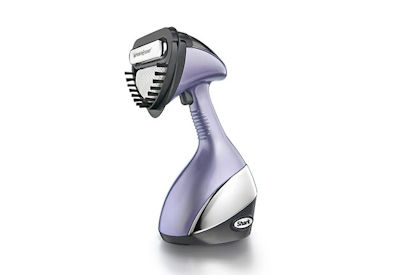 Model: GS500
Other Details
$15 within the contiguous United States. If shipping to Alaska, Hawaii, Puerto Rico, or Canada $25 additional.
---
Please note: The rank of bidders is listed by the best price, greatest quantity, date the item was bid on, and the time the bid was placed. Winning bidders will be displayed! All times are EST.
*The AutoBid feature is an optional feature which allows you to place a blanket bid on an item. This way you do not have to be present to raise your bid to the next acceptable bid level should someone else outbid you. If someone outbids you, the AutoBid acts as your agent and raises your bid to the next acceptable winning bid. This will continue until your AutoBid limit is reached. In the event of ties, the AutoBid is the winning bid.
Reference #: 171157