Bid per person and choose your departure from Select Departure Dates below.
12 Day Hidden Treasures of Thailand Escapade Experience

DAY 1: BANGKOK

Arrival in Bangkok. After clearing Customs and Immigration, and collecting your baggage, please follow the signs to exit door 6, where our representative will be waiting for you holding a sign which will note your name or your agent's name. Your guide will present you with a welcome packet including all necessary documentation and vouchers and all contact information of your guide and local offices.

Transfer to your hotel

Welcome to Thailand! Well known as the City of Angels, Bangkok is the present capital city and the focal point for Thailand. It was made the capital of Thailand in 1782 by the first monarch of the present Chakri Dynasty. It is a vibrant city, a national treasure house and Thailand's spiritual, cultural, political, commercial, educational and diplomatic center, with endless choices for sightseeing and entertainment opportunities. In addition to the many temples and historic buildings such as The Grand Palace and Wat Arun, the list of interesting places to visit is endless. There are numerous canal (khlong) networks on the Chaophraya River, giving the city the name of 'Venice of the East'. Upon arrival, check in to your hotel.

Overnight in Bangkok


DAY 2: BANGKOK (BREAKFAST - LUNCH)

Grand Palace and Jim Thompson House

This morning, your sightseeing in Bangkok begins with a visit to the Grand Palace. It is an architectural wonder of golden stupas, walls and pillars encrusted in shining, colorful mosaics, and the previous residence of the Kings of Thailand (from the 18th to the mid-20th century). You will see palaces once used for different occasions, including the Reception Hall, the Coronation Hall, the Throne Hall, the Royal Guest House and Wat Phra Kaew. The architecture is predominantly Thai, though there are some European influences. The most famous building within the palace grounds is Wat Phra Kaew, as it is regarded the most sacred Buddhist temple in Thailand. The main temple building houses the Emerald Buddha, the most revered object in Thailand, carved from a single piece of jade. After lunch, tour Jim Thompson's house. This architectural gem is hidden away on a quiet street, in the center of the city. It was once the home of the man who took the production of Thai silk onto a higher level on the international stage. The building itself is one of the best examples of traditional Thai residential architecture, also housing a breathtaking collection of Southeast Asian art. An open air café is situated in the peaceful gardens with a shop selling Jim Thompson's silk and other household items.

Restaurant : Meals incl. in itinerary (Thailand)(Lunch),

Overnight in Bangkok


DAY 3: BANGKOK (BREAKFAST - LUNCH - DINNER)

Floating market and Nakorn Pathom

This morning, drive through the countryside of Bangkok and visit the world-famous floating market of Damnoen Saduak. Situated 110 km from Bangkok in Ratchaburi Province, this market is like a trip back in time to old Siam. You will see colorfully clad merchants paddle along canals in sturdy canoes which are laden with fresh fruit and vegetables to be sold on the canal banks. This buzzing market is at its best in the early morning, before the crowds arrive and the heat of the day builds up. Afterward, continue on to Phra Pathom Chedi in Nakorn Pathom, reportedly the largest pagoda in Southeast Asia. The golden-tiled dome of the Chedi towers almost 116 m into the air.

Perhaps, take an optional paddle boat ride (at extra cost).

Restaurant : Meals incl. in itinerary (Thailand)(Lunch), and Meals at Hotel (Thailand)(Dinner),

Overnight in Bangkok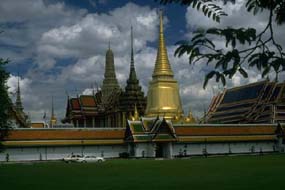 DAY 4: BANGKOK - HUA HIN (BREAKFAST)

Travel to Hua Hin by private vehicle transfer

This morning, drive to Hua Hin, with the remainder of the day at leisure.

Overnight in Hua Hin


DAY 5: HUA HIN (BREAKFAST - LUNCH - DINNER)

Excursion to Sam Roi Yod National Park and fishing village

Your sightseeing begins with a pleasant drive through the rich, fertile agricultural land south of Hua Hin to the "Three Hundred Peaks" Sam Roi Yod National Park. This protected area is a natural wonderland of limestone caves, dense forests, abundant waterfalls, mangrove swamps and isolated beaches. First stop is a visit to the secluded fishing village of Bang Poo, where visitors are taken back in time to a land of yesteryear, set in stunning scenery. Then, proceed by fishing boat to a secluded beach which is the starting point for a steep climb to Prayanakorn Cave. The most popular attraction of this vast cave is Phra Thinang Khuha Kharuehat, a pavilion constructed during the reign of King Rama V in 1890. This distinctive pavilion is now used as the symbol of Prachuap Khiri Khan Province. Lunch will be served on the beach, with ample time for swimming and sunbathing before returning to your hotel.

Restaurant : Meals incl. in itinerary (Thailand)(Lunch), and Meals at Hotel (Thailand)(Dinner),

Overnight in Hua Hin


DAY 6: HUA HIN - BANGKOK - CHIANG MAI (BREAKFAST)

Transfer to Bangkok Suvarnabhumi Airport for your flight to Chiang Mai

Enjoy the breakfast, Later, you will be transferred back to Bangkok's airport (approx. 4 hour-drive) for your flight to Chiang Mai.

Flight from Bangkok to Chiang Mai

Arrival in Chiang Mai

Upon arrival in Chiang Mai, you will be met by our representative and transferred to your hotel. Popularly known as the Rose of the North, Chiang Mai is blessed with stunning natural beauty and unique indigenous cultural identity. Upon arrival at the hotel, spend the rest of your day at leisure.

Overnight in Chiang Mai


DAY 7: CHIANG RAI - CHIANG MAI (BREAKFAST - LUNCH - DINNER)

Morning at leisure

Doi Suthep

In the afternoon, experience a scenic drive through the historical areas of Chiang Mai. After lunch, take an invigorating trip to the mountains, up the slopes of Doi Suthep, to visit a Meo hill tribe and observe their simple way of life. The Meo tribe originated in South China and usually live on mountain peaks or plateaus above 3,000 feet. This tour offers a spectacular view of Northern Thailand, as you travel on mountain roads and through forest scenery, ending with a visit to the 600-year-old Doi Suthep Temple near the summit of Doi Suthep. The final climb to the site is via a magnificent Naga (dragon-headed serpents) staircase of 306 steps. Inside is an intriguing copper-plated chedi topped by a five-tiered gold umbrella containing partial relics of Lord Buddha.

This evening, you will be introduced to the Khantoke cuisine and a traditional dance performance including the intricate Forn Leb finger dance, the Forn Thien candle dance, the Ramwong circle dance, and the Ram Dab sword dance. After dinner, enjoy an additional hill tribe show performed by various members of the Yao, Lahu, Meo, Lisu, and Karen hill tribes.

Optional Tour (Pre-Booking)

Period : April 2019 - March 2020

Elephant Sanctuary (Half Day Visit) (Joining Activity)

Pick up from your hotel or accommodation. Drive approximately 1.5 hours South of Chiang Mai through rolling hills, forest, and local farming areas. Arrive at the Elephant Jungle Sanctuary. Walk through and learn about the elephants, change into traditional Karen clothing and make medicine for the elephants. Meet the elephants. Feed, give medicine, interact, and play with the elephants in a natural environment as you learn about their behavior and history. Take photos with the elephants. Mud Spa with the elephants Walk with the elephants to a river and bathe them. Eat a traditional meal and then say goodbye to the elephants. Leave the Elephant Jungle Sanctuary and drive approximately 1.5 hours to Chiang Mai. Drop off at your hotel or accommodation.

Surcharge for private transfer with English Speaking Guide Price @ 145 per group of 1-6 persons (to Elephant Sanctuary)

Restaurant : Meals incl. in itinerary (Thailand)(Lunch), and Meals incl. in itinerary (Thailand)(Dinner),

Overnight in Chiang Mai


DAY 8: CHIANG MAI (BREAKFAST - LUNCH - DINNER)

Village visit and local life experience

An approximate one-hour drive takes you to Mae Kampong, a rustic little village set along a stream, in the mountains near Chiang Mai. You'll get to meet local people at a traditional market. The market is an essential form of daily life in these remote communities and is much more than just a place to sell and buy things. Then, embark on a gentle walk through the forest with local experts who will point out areas of interest and explain how their conservation of the forest is progressing. Enjoy lunch, followed by a relaxing massage. Then, explore the village to see daily activities such as the making of fermented tea. You'll have the opportunity to see inside traditional village homes, many adorned with exquisite local handicrafts. Cook your own dinner in a village home and experience a wonderful sunset from the mountain top before returning to Chiang Mai.

Restaurant : Meals incl. in itinerary (Thailand)(Lunch), and Meals incl. in itinerary (Thailand)(Dinner),

Overnight in Chiang Mai


DAY 9: CHIANG MAI - KOH SAMUI (BREAKFAST)

Transfer to airport

Flight from Chiang Mai to Koh Samui

Transfer to hotel

Upon arrival in Koh Samui, you will be met by our representative and transferred to your hotel. The remainder of the day is at your leisure to bask in the beauty of the island.

Overnight in Koh Samui


DAY 10: KOH SAMUI (BREAKFAST - LUNCH - DINNER)

Koh Tan (Coral Island) - snorkeling : by Long Tail Boat (incl. lunch / SIC (min, 02pax))

A short boat ride from Koh Samui lies Koh Taen (Coral Island), a classic desert island location (seat-in-coach excursion). The adventure starts with a short drive to Thong-Krut Bay, where we board a long-tailed boat for the 20-minute journey to this adjoining island situated off the southern tip of Samui. Lunch will be served at a beach restaurant with time set aside to "recharge the batteries." For those keen to do more than soak up the rays, the southern end of the beach has a fantastic snorkeling spot with an abundance of coral that is home to a plethora of colorful, tropical marine creatures. The west side of the island has a mangrove forest with a sturdy boardwalk, so visitors can see how the mangroves act as a haven for land and sea creatures, without damaging the sensitive eco-system. The island is traffic-free and without electricity, so there is total solitude. Although less than half-an-hour from Samui, Koh Taen is a world away from its bigger neighbor.

Restaurant : Meals incl. in itinerary (Thailand)(Lunch), and Meals at Hotel (Thailand)(Dinner),

Overnight in Koh Samui


DAY 11: KOH SAMUI - BANGKOK (BREAKFAST)

Transfer

Today, transfer to Samui International Airport for your flight back to Bangkok

Flight from Koh Samui to Bangkok

Transfer

Upon arrival in Bangkok, head to the meeting point on the arrivals floor for your complimentary joined shuttle transfer to your airport hotel.

Overnight in Bangkok


DAY 12: BANGKOK (BREAKFAST)

Departure from Bangkok

Bid farewell to Thailand, as you take the complimentary airport shuttle to board your departing flight home/onward.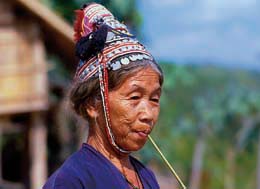 Your Tour Includes:
Guaranteed 2 passengers
English speaking guides
Historical sightseeing
Performances: Northern Hill Tribe Preformance
All meals: 11 breakfast, 6 lunches, 5 dinners
3 Intra-Southeast Asia flights
USTOA $1 Million Travelers Assistance Program
Deluxe hotels: 3 nights Bangkok: Holiday Inn Silom • 2 nights Hua Hin: Regent Cha Am Beach Resort • 3 nights Chiang Mai: Holiday Inn • 2 nights Koh Samui: Saree Samui (Tropical Villa) • 1 night Bangkok: Best Western Premier Amaranth Suvarnabhumi Airport Hotel
Not Included:
International Flights, however we can quote for airfare upon request
Visa Services
Important information:
A copy of your passport is required for booking purposes.
A tax and service charge of $495 per person is additional.
Offer is based on double occupancy. A single supplement of $1199.- is available to those of you traveling solo, providing the minimum number of passengers has been reached.