This auction has ended without any winners.
Unfortunately, this offer has ended. The offer ended: Wednesday, December 4, 2019 11:00 PM
The good news? You can check out hundreds of more deals that you can Bid on or Buy-It-Now.
New to SkyAuction? We are the web's leading travel auction site, offering thousands of super discounts on flights, cruises, hotels, vacation rentals, and more every day. You can register to bid with our simple, secure, fast, and free registration page.
Item Description
7 nights in a 1 BR Unit at the Wyndham Grand Desert in Las Vegas, Nevada for December 13, 2019
---
Item #:
3223331
This offer is for a 1 bedroom unit with a mini kitchen sleeping up to 4 people.
Winner will have their credit card charged immediately upon completion of the auction and documents will be sent via email! Winner must have a valid credit card on file at the end of the auction or they risk losing the room.
Highlights
Located less than a mile from the Strip, Wyndham Grand Desert Resort offers outstanding accommodations close to the heart of Las Vegas. Take a gondola ride in "Venice", Board a roller coaster in "New York", go to the top of the "Eiffel Tower" like in Paris, or visit the "Pyramids" like in Egypt, all on the nearby Strip. Try your luck at any of the casinos, or enjoy the wide array of live entertainment and exceptional restaurants within a mile of the resort. For a change of pace, take a day-trip to The Hoover Dam, Grand Canyon or Death Valley. The resort shuttle will run between the Resort & Harrah's Casino.
Additional Information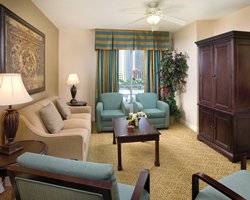 Your vacation home at Wyndham Grand Desert
offers a fully equipped kitchen with a
microwave oven and dishwasher, as well as
A/C, TV & DVD, stereo w/CD unit and
washer and dryer. Some condos have a
jacuzzi. 1BR/1 bath units have king bed
& sleep sofa. 1BR units OCC:Max 4/Pri
2 are best suited for 2 adults. 2BR
units OCC:Max 8/Pri 6 have 2 baths, 1
king bed, 2 double beds, and 1 sleep sofa.
3BR units occ:Max 10/pri 8 have 2 baths,
2 king beds, 2 full beds and 1 sleep sofa.
Call in advance to discuss special needs.
Handicapped units may not be an option.
Unit changes & upgrades are not an
option. All units are non-smoking. A
credit card or cash deposit is required.
Pool towels are provided. Daily/midweek
cleaning is offered for an additional
fee. A US$75 cleaning fee is charged for
all less than 7 night Points
reservations. Pets are not allowed.
Unit Amenities
Amenities in All Units
Telephone
Kitchen (Mini, Full)
Air Conditioning
Carpet
Amenities in Some Units
Fireplace - Unit
Washer/dryer
Dishwasher
Microwave
Resort Amenities
On-Site
Swimming Pool
Children's Pool
Exercise Equipment
Health Club
Sauna
Whirlpool/hot Tub
Games Room
Handicapped Unit
Lift/elevator
Laundry
Snack Bar
Nearby
Casino
Live Entertainment
Auto Rental
Grocery Store
Hairdresser
Medical Facilities
Restaurant
Shopping Area
Off-Site
Golf (1.0 miles)
Horseback Riding (5.0 miles)
Boating (25.0 miles)
Fishing (25.0 miles)
Lake (25.0 miles)
Ski School (40.0 miles)
Downhill Skiing (40.0 miles)
Urgent Information
Effective
Message
7/22/09
A Credit Card Security Deposit And Photo Id Showing You Are
At Least 21 Is Required At Check-in. Resort Charges A Us$75
Cleaning Fee For All Less Than 7 Night Reservations. Daily
Or Midweek Cleaning Is Not Offered. Resort Cannot Offer
Unit Changes Or Upgrades. There Is No Parking Available For
7/22/09
Rv, Campers Or Trailers. All Units Are Non Smoking. Pets
Are Not Allowed. Call The Resort Directly To Discuss Any
Special Needs.
8/11/09
From 8/11/2009 To 10/17/2009, Motorists Traveling On
Interstate 15 Between Las Vegas, Nv And Baker, Ca Should
Contact The Ca Department Of Transportation About Ongoing
I-15 Closures.
---
Bid price is per unit.
Travel Details
Anytime within the following date(s):
12/13/2019
Anytime within the following date(s):
12/20/2019
7 nights.
$299 additional per unit
$20
---
Please note: The rank of bidders is listed by the best price, greatest quantity, date the item was bid on, and the time the bid was placed. Winning bidders will be displayed! All times are EST.
*The AutoBid feature is an optional feature which allows you to place a blanket bid on an item. This way you do not have to be present to raise your bid to the next acceptable bid level should someone else outbid you. If someone outbids you, the AutoBid acts as your agent and raises your bid to the next acceptable winning bid. This will continue until your AutoBid limit is reached. In the event of ties, the AutoBid is the winning bid.
Reference #: 173933