Magisso Naturally Cooling Bamboo XL Cutting Board and Chopping Pocket Set
Description

Magisso Bamboo XL Cutting Board and Chopping Pocke
t Set
The Magisso Cutting Board combines innovative functionalities making it the perfect workbench of the kitchen. It makes cutting easier, safer and cleaner. Edges on both sides of the cutting board are designed to make it stable to use against the edge of the kitchen counter. This unique design gives extra support for the kitchen knife and makes chopping easier. The edges also keep the ingredients from spreading while scooping them to a pan.
The Magisso Chopping Pocket is the ultimate utensil for the home, picnics and parties. Chop your choice of veggies and fold up the cutting board to a nifty serving pocket and bring in the tacos and tortillas! Can also be used to pour ingredients to a pot or a pan.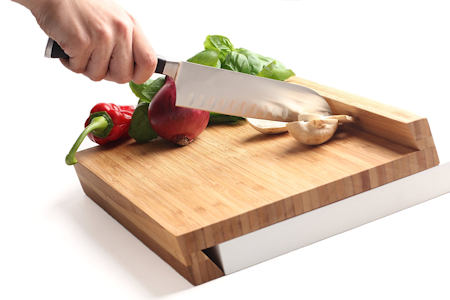 Product Information:
Material - Bamboo

13.8 x 10.2 x 3 inches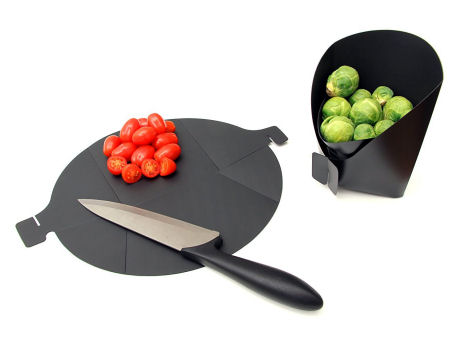 Product Information:
Material - Nylon
Dishwasher safe
Shipping:
Shipping and handling is FREE within the 48 continental United States. For deliveries to Hawaii, Alaska, Puerto Rico and Canada it is $30 additional. We will be unable to accommodate deliveries to any other international destinations.
Terms and Conditions:
1) Merchandise sales are final upon shipment of goods.

Price is per item.
Magisso - 2 items (choose from:)

Magisso Large Bamboo Cutting Board 70162
Magisso Chopping Pockets - 70408
Other Details
Free shipping within the contiguous United States. If shipping to Alaska, Hawaii, Puerto Rico, or Canada $30 additional. For additional quantity, shipping is $15 each.
Reference: 174422