Enjoy a 7 night stay in a 1 bedroom suite at the El Cid El Moro Beach Hotel in Mazatlan, Mexico!
Address: Av Camarón Sábalo 811, Zona Dorada, 82110 Mazatlán, Sin., Mexico
The abundance of pools, beachfront location, and water activities make the El Cid El Moro Resort popular among families. Adults seeking tranquil vacations get plenty of room for sunbathing and reading around a "quiet pool," which is also paired with a spa tub. A marble-floor lobby with skylights, aquariums, and accent walls of broken seashells exemplifies the hotel's casual ambiance.
A freeform activities pool features a massive rock garden with a waterfall and a water slide. An adjacent children's pool bordered by rock formations includes a water slide and contains a swim-up bar for adults. A "quiet pool" is styled like a mountain pool complete with rock-garden waterfalls and stream. The rock garden above the pool includes a narrow swimming section and a 15-person spa tub.
A children's club offers complimentary supervised activities for ages 4-12 during the day. Complimentary family activities include pool aerobics, bingo, Spanish lessons, and games and contests. Wireless Internet access (surcharge) is available in the lobby, restaurant, and pool area.
Complimentary shuttle service is available to a partner resort located 1.25 km (0.75 mi) away at El Cid Marina. Guests may use all facilities, including two pools and a beach club.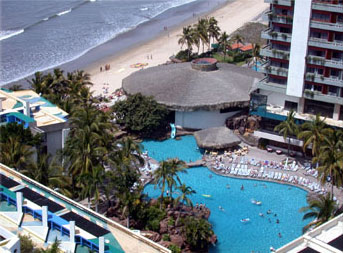 The hotel offers 294 guest suites in a 28-story tower. Most include ocean-view balconies. A few have no balconies but instead feature unit-wide windows with close-up ocean views. Fully equipped kitchenettes come with two-burner cooktops, microwaves, toaster ovens, refrigerators, blenders, and coffeemakers. Remodeled in 2004, suites provide a casual, contemporary ambiance featuring pale-yellow cabinets and furniture, orange upholstery, gold drapes, green-and-gold bedspreads, tan-marble floors, knobby-textured white walls with terra-cotta accents, and marble-lined bathrooms. Ceiling fans provide a cooling alternative to suites' air conditioning.
Dates Available: (Availability is subject to change)
A 1 bedroom suite will sleep up to 6 guests and have a partial kitchen.
Following Check-in Dates and Units are Available for a 7 Night Stay!


October 24, 31, 2020
November 7, 14, 21, 28, 2020
December 5, 12, 2020