This auction has ended without any winners.
Unfortunately, this offer has ended. The offer ended: Wednesday, July 1, 2020 11:00 PM
The good news? You can check out hundreds of more deals that you can Bid on or Buy-It-Now.
New to SkyAuction? We are the web's leading travel auction site, offering thousands of super discounts on flights, cruises, hotels, vacation rentals, and more every day. You can register to bid with our simple, secure, fast, and free registration page.
Item Description
7 nights in a 1 BR Unit at the Kamaole Beach Club in Kihei, Maui, Hawaii for July 11, 2020
---
Item #:
3316883
This offer is for a 1 bedroom unit with a full kitchen sleeping up to 4 people.
Winner will have their credit card charged immediately upon completion of the auction and documents will be sent via email! Winner must have a valid credit card on file at the end of the auction or they risk losing the room.
Highlights
Kamaole Beach Club has a prime location because it is directly in front of one of Maui's finest swimming beaches on the lush Gold Coast of Kihei. Water sports of all kinds are offered. Next door you can arrange snorkeling trips, fishing charters, and other offshore excursions. For the active set, golf, tennis, and horseback riding can be enjoyed within five miles. For nature buffs and photographers, a day at Haleakala National Park is a must: Rare wildlife and dazzling tropical plants can be seen along the 30 miles of trails that encircle the world's largest dormant volcano.
Additional Information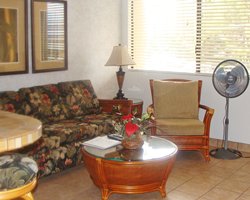 ***Units are not air-condtioned but do
have ceiling fans. Each unit has cable TV
telephone, a full kitchen with microwave,
dishwasher as well as a washer and dryer.
1BR units OCC: Max 4/Pri4 have 1 queen
bed, 1 sleep sofa and 1.5 baths.1BR units
with a loft OCC: Max 6/Pri 6 have 1 queen
bed, 2 twin beds, 1 sleep sofa and 2 full
baths. 2BR townhouse units OCC: Max 6/Pri
6 have 1 queen bed, 2 twin beds, 1 sleep
sofa and 2 full baths. The resort has 2
stories and no elevator. No pets allowed.
To full enjoy the area, a car is required.
No on-site activities. All Hawaii resorts
must collect Transient Accommodation tax
which will range from US$20.00 to US$40.00
per interval confirmed. Check-in is from
3PM-6PM, if arriving after 6:00 PM guests
Must call ahead for the combination to the
lockbox where the unit key will be left.
Guests should call 808/879-9996 or 808/
879-5585 prior to 6:00 PM during normal
office hours. A security deposit will be
be required upon arrival. A Master Card,
Visa or a Diners card is acceptable. Amex
cards are not acceptable.
Unit Amenities
Amenities in All Units
Telephone
Kitchen (Full)
Carpet
Washer/dryer
Dishwasher
Microwave
Resort Amenities
Nearby
Beach
Wind Surfing
Scuba Diving
Fishing
Golf
Live Entertainment
Grocery Store
Hairdresser
Medical Facilities
Restaurant
Shopping Area
Child Care
Off-Site
Water Skiing (1.0 miles)
Boating (1.0 miles)
Tennis (1.0 miles)
Playground Area (1.0 miles)
Exercise Equipment (2.0 miles)
Health Club (2.0 miles)
Spa (3.0 miles)
Horseback Riding (5.0 miles)
Racquetball (10.0 miles)
Urgent Information
Effective
Message
1/15/93
Hawaii Transient Tax Is $27.44 For 1 Bedroom Units And
$35.35 For 2 Bedroom Units. A Credit Card Imprint Is Taken
At Check-in. Complementary Internet And Telephones
Service In All Units. Resort Is Non Smoking.
Resort Is Two Levels And No Elevator. No A C But There Are
7/17/09
Ceiling Fans. Check In Is From 4pm To 6pm, You Must Call
Resort To Get Lock Box Combination If Arriving After 6pm.
Resort Is On Busy Street And Noise Can Be Heard.
Beach Is Across The Street.
If Arriving After 6pm You Must Call 808-879-9996 Or
1/1/95
808-879-5585 Prior To 6pm Day Of Arrival For Lockbox
Instructions.
---
Bid price is per unit.
Travel Details
Anytime within the following date(s):
7/11/2020
Anytime within the following date(s):
7/18/2020
7 nights.
$299 additional per unit
$20
---
Please note: The rank of bidders is listed by the best price, greatest quantity, date the item was bid on, and the time the bid was placed. Winning bidders will be displayed! All times are EST.
*The AutoBid feature is an optional feature which allows you to place a blanket bid on an item. This way you do not have to be present to raise your bid to the next acceptable bid level should someone else outbid you. If someone outbids you, the AutoBid acts as your agent and raises your bid to the next acceptable winning bid. This will continue until your AutoBid limit is reached. In the event of ties, the AutoBid is the winning bid.
Reference #: 176878