This auction has ended without any winners.
Unfortunately, this offer has ended. The offer ended: Wednesday, July 1, 2020 11:00 PM
The good news? You can check out hundreds of more deals that you can Bid on or Buy-It-Now.
New to SkyAuction? We are the web's leading travel auction site, offering thousands of super discounts on flights, cruises, hotels, vacation rentals, and more every day. You can register to bid with our simple, secure, fast, and free registration page.
Item Description
7 nights in a 1 BR Unit at the Ocean Key Resort in Virginia Beach, Virginia for July 11, 2020
---
Item #:
3316884
This offer is for a 1 bedroom unit with a mini kitchen sleeping up to 4 people.
Winner will have their credit card charged immediately upon completion of the auction and documents will be sent via email! Winner must have a valid credit card on file at the end of the auction or they risk losing the room.
Highlights
A vacation with sea, sun, and fun is yours at the beautiful Ocean Key Resort. Visit nearby historic areas; stroll along the boardwalk; go deep-sea fishing, Jet Skiing, parasailing, boating; or play mini golf nearby. A masseuse is also available on site. Relax at the indoor pool and Jacuzzi. Enhance your tan in the tanning salon or shape up in the exercise room. Virginia Beach and Ocean Key Resort invite you to sample all the area and resort have to offer.
Additional Information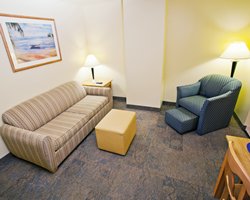 Your vacation home at Ocean Key Resort is
air-conditioned, has a telephone, cable TV
DVD player, small refrigerator, 2 burner
stove top, microwave, toaster oven and
more. Units do not have a balcony and unit
views are not guaranteed. Windows do not
open. 1BR units OCC: 4/2 have 1 bath, 1
queen bed & 1 sleep sofa. 2BR units
OCC: 6/4 have 1 bath: 2BR units OCC: 6/6
have 2 baths, 1 queen bed, 2 twins and 1
sleep sofa. 2BR units OCC: 8/4 have 2
baths, 2 queen beds & 2 sleep sofas. A
masseuse may be scheduled through the
resort. Only one vehicle is allowed per
unit. RV's & oversized trucks are
not permitted on site due to garage
height. There is a charge for parking in
the nearby city lot. A car is
recommended. A US$100 security deposit is
required at check-in payable only with
Visa, Discover, or Mastercard. No pets
allowed. Wireless Internet Access is
available for a fee. There is a 24 hour
check-in desk. Check-in after 4:00PM. All
units are smoke fee. Designated smoking
areas outdoors. US$250 fine for any
evidence of smoking in units. There is on
going construction at resort.
Housekeeping fee, less than 7 nights: $64.

Unit Amenities
Amenities in All Units
Telephone
Kitchen (Mini)
Air Conditioning
Carpet
Dishwasher
Microwave
Resort Amenities
On-Site
Exercise Equipment
Whirlpool/hot Tub
Games Room
Handicapped Unit
Lift/elevator
Laundry
Restaurant
Nearby
Beach
Lake
Boating
Fishing
Live Entertainment
Auto Rental
Grocery Store
Hairdresser
Shopping Area
Child Care
Off-Site
Tennis (1.0 miles)
Playground Area (1.0 miles)
Golf (1.0 miles)
Scuba Diving (1.0 miles)
Medical Facilities (2.0 miles)
Spa (2.0 miles)
Racquetball (3.0 miles)
Water Skiing (4.0 miles)
Wind Surfing (10.0 miles)
Urgent Information
Effective
Message
9/9/05
This Resort Is Located Across The Street From The Beach And
Not All Units Have An Ocean View Or A Balcony. This Is A
Non Smoking Resort. There Are Designated Smoking Areas
Outdoors. $250 Fine Will Be Charge If Guest Smoke In Units.
$100 Security Deposit Payable Only By Visa, Mastercard Or
9/28/09
Discover Card. No Pets Allowed And There Is Ongoing
Construction At Resort. Guest Certificate Policy Enforced.
Pool Access May Be Affected Nov Thru Dec For Remodel Work.
Confirmations Made After 5pm Est On Friday Must Be Faxed
Directly To Resort At 757-491-1186.
4/6/11
Rci Points Reservations Greater Than Two Nights May Require
One Or More Room Moves. For Stays Greater Or Less Than 7
Nights, A Housekeeping Fee Of $64 Is Charged For Each Unit
Occupied.
---
Bid price is per unit.
Travel Details
Anytime within the following date(s):
7/11/2020
Anytime within the following date(s):
7/18/2020
7 nights.
$299 additional per unit
$20
---
Please note: The rank of bidders is listed by the best price, greatest quantity, date the item was bid on, and the time the bid was placed. Winning bidders will be displayed! All times are EST.
*The AutoBid feature is an optional feature which allows you to place a blanket bid on an item. This way you do not have to be present to raise your bid to the next acceptable bid level should someone else outbid you. If someone outbids you, the AutoBid acts as your agent and raises your bid to the next acceptable winning bid. This will continue until your AutoBid limit is reached. In the event of ties, the AutoBid is the winning bid.
Reference #: 176879