Unfortunately, this low price guaranteed offer has ended. The offer ended: Friday, June 11, 2021 11:00 PM
The good news? You can check out hundreds of more deals that you can Bid on or Buy-It-Now, all backed by the SkyAuction Best Price Guarantee.
New to SkyAuction? We are the web's leading travel auction site, offering thousands of super discounts on flights, cruises, hotels, vacation rentals, and more every day. You can register to bid with our simple, secure, fast, and free registration page.
7 nights in a 1 BR Unit at the Westgate Vacation Villas in Kissimmee, Florida for June 27, 2021
---
Item:
#3425005
This offer is for a 1 bedroom unit with a full kitchen sleeping up to 4 people.
Highlights
Located in the heart of Central Florida, Westgate Vacation Villas is one mile from Walt Disney World and within easy driving distance of Sea World and Universal Orlando. Resort amenities include paddle boats, tennis courts, video arcade, swimming pools, child's pools, whirlpools, bicycles, basketball, 18-hole Jurassic miniature golf, Pizza Hut, fitness center, mini-mart, business center, planned adult and children's activities, and a Disney movie center.
Additional Information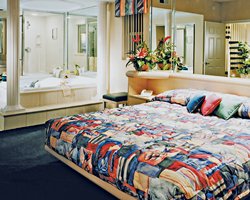 Your vacation home is air-conditioned and
features a full kitchen with a microwave
oven, TV's, and screened patio. Some
units have a whirlpool bath and a
washer/dryer. 1BR units OCC: Max 4/Pri 4
have either 1 or 2 baths, 1 queen bed and
1 sleep sofa. 2BR units OCC: Max 6/Pri 6
or Max 8/Pri 6 have 2 baths, 1 king bed,
either 2 twin beds or 2 double beds, and
1 sleep sofa. 3BR units OCC: Max 12/Pri 8
have 3.5 baths, 2 king beds, 2 queen beds
and 2 sleep sofas. 4BR units OCC: Max
16/Pri 12 have 5 baths, 2 king beds, 4
queen beds and 2 sleep sofas. Although
there may not be a washer/dryer in the
unit, facilities are available on each
floor of the buildings. There are fees
for the use of various amenities & an
optional Westgate Foundation donation.
Contact resort for more information.
US$200 security deposit required at check-
in by cash/credit card. One pet per unit
allowed. US$80 Pet cleaning fee, US$75
pet security deposit. Some buildings have
multiple floors and no evelator. Occupancy
limit is enforced and violators will be
charged a fee. *Check-in time of 4:00PM is
strictly enforced due to high occupancy.*

Unit Amenities
Amenities in All Units
Telephone
Kitchen (Partial, Full)
Air Conditioning
Carpet
Amenities in Some Units
Washer/dryer
Dishwasher
Microwave
Resort Amenities
On-Site
Lake
Fishing
Swimming Pool
Children's Pool
Tennis
Whirlpool/hot Tub
Games Room
Playground Area
Live Entertainment
Lift/elevator
Grocery Store
Laundry
Snack Bar
Off-Site
Medical Facilities (2.0 miles)
Golf (4.0 miles)
Beach (60.0 miles)
Urgent Information
Effective
Message
9/21/09
A $200 Refundable Security Deposit Is Required At Check In
Payable By Cash Or Credit Card. One Of The Buildings Has 2
Levels And No Elevator. A $30 Activitiescard For A Family
Of 6 Is Charged. Some Activities Require Additional Fees.
Check In At 4pm Is Strictly Enforced. If Arriving Late,
8/18/97
Call Resort For Check In Process. Pets Are Allowed, 1 Pet
Per Unit. $80 Pet Cleaning Fee And $75 Pet Deposit Required
60 Lb. Limit For Dogs And Following Breeds Are Not Allowed:
Pit Bulls, Rottweilers, German Shepherds, Huskies, Alaskan
Malamutes, Doberman Pinschers, Chow Chow, And Presa Canario.
1/12/05
For Last Minute Confirmations, Call The Management Company
At 800 925 9999, Option 3. Fax The Confirmations To
407 355 1923.
---
Price is per unit.
Travel Details
Anytime within the following date(s):
6/27/2021
Anytime within the following date(s):
7/4/2021
7 nights.
$20
Reference: 182147