Buy-It-Now per Person Per Night and Stay
Four (4) All-Inclusive* Nights
thru 2023*
at Ian Anderson's Caves Branch Jungle Lodge,
12 miles south of Belmopan in Belize!
One Bedroom Bungalow | Breakfast - Dinner | Signature Tour

* The All-inclusive is limited to regular meals — Breakfast and Dinner only
and will NOT INCLUDE LUNCH

Adventures — must be experienced to be believed...
But once experienced, Never Forgotten!
Experience Belize adventure tours at its best at Ian Anderson's Caves Branch Jungle Lodge. Prepare to journey into the lush plant and animal life of the Belize jungle; marvel at the mystifying lost Maya ruins, explore mysterious caves and caverns, and immerse yourself in the majestic Caves Branch River. An abundance of full and half day trips await you at caves Branch, where our Belize adventure tours are designed especially for you.
Includes Signature Tour - One Per Booking. Click here for more information about The Signature Tours , one included in the auction — can be decided at the Lodge.
Other Tours NOT Included — may be purchased directly from the Lodge.
Located in the geographical center of Belize in the heart of a vast section of pristine rainforest, Caves Branch Lodge offers visitors five-star luxury accommodations elegantly integrated into the surrounding nature.
As the premiere Adventure Jungle Lodge in the country, Caves Branch is a true oasis in paradise. The Lodge has a buffet-style restaurant serving up mouthwatering meals each day, a swimming pool, hot tub, professional massage center, and the largest botanical garden collection of orchids and Bromeliads in the country.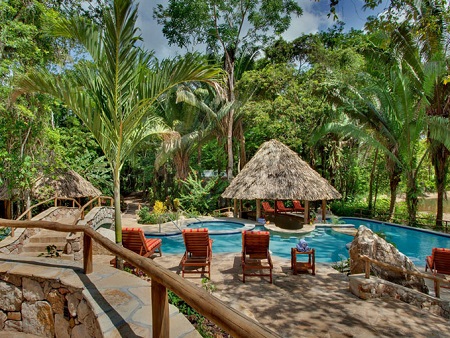 Although not a resort, Caves Branch Jungle Lodge specializes in organizing adventure tours of the surrounding nature. Guests can enjoy horseback treks through the jungle, bird watching expeditions, trips to ancient Maya cities, hiking and rappelling, and of course the Caves Branch famous- cave tubing. Developed by Ian Anderson- the founder and owner of Caves Branch Jungle Lodge, cave tubing is a unique experience that involves floating down vast underground rivers on an inflatable inner tube.
For adventurers looking for more extreme experience, Caves Branch Lodge offers night treks of the jungle in order to see the approximately 80% of wildlife that is only active at nighttime, overnight stays in nearby caves, and the popular Jungle Quest Expedition, a four-day, three-night experience where guests must rely on just a machete and bush skills in order to survive.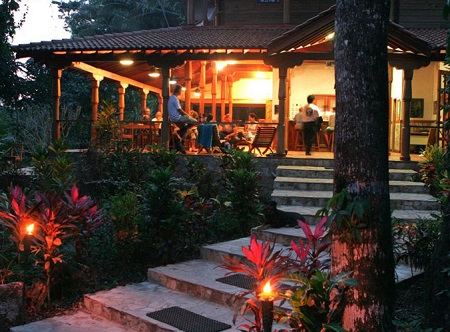 Although Caves Branch Lodge specializes in fun and exciting adventure expeditions, guests are treated to a truly five-star experience while on the property. There are cheese tastings regularly held in the botanical gardens, and the lodge's treehouse suites offer guests a unique opportunity to experience nature while enjoying all the modern comforts. With hot and cold running water and beautiful views of the surrounding jungle canopy, the Treehouses at Caves Branch Lodge are lovingly furnished with locally sourced marble and hardwood furniture.
---
Offer is based on a Single or Double Occupancy in a Jungle Bungalow.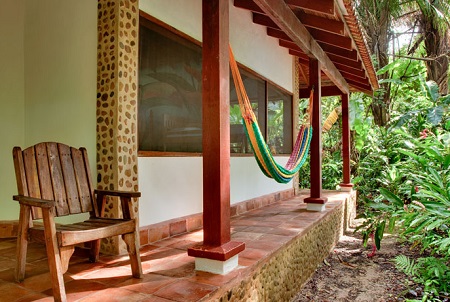 Hidden under the tall forest canopy are five charmingly rustic Jungle Bungalows within the natural gardens of Caves Branch Lodge. These stand-alone are fully screened to keep the bugs out but let the essence of the jungle in.

Each bungalow contains a queen size bed with a sitting room as part of the room area that features either a double futon or a set of bunkbeds. Each room has its own full inside bathroom with hot & cold shower, powerful ceiling fan, and a wraparound veranda. To enhance your bungalow stay even more, a private outdoor shower is located within an enclosed garden area of each unit.
Room Features:
• A sitting area with either a futon bed and/or bunk beds
• Queen size bed
• Indoor bathroom with hot & cold shower
• hardwood, terra cotta tile ceilings
---

A tax and service charge of $49 per person per night is additional.
Stay 4 Nights as desired and based on availability. Additional nights or multiple rooms not available.
All reservations are subject to availability. *Not Valid for Stay during: Observed U.S. Holidays, Thanksgiving week, Christmas and New Year's weeks, President's Day weekend, Easter week, Memorial Day and Labor Day weekends.
Transfers to/from the resort are NOT included.