Buy-It- Now per person per night and Stay
in 2022
at Desire Riviera Maya Pearl Resort
in Riviera Maya near Cancun, Mexico!
DESIRE EXPERIENCE
Sensuality. Eroticism. Pleasure.
Submerge yourself in the Desire experience, a world of erotic pleasure, where fulfilling your fantasies and awaking your senses is your only objective. Lose yourself in the sensuality of a couples-only ambience, full of respect and intimacy, vibrating in pleasure without limits, where clothing is optional. Participate in the inexhaustible game of seduction designed to enrich your imagination, while enjoying breathtaking views in extraordinary destinations, both land & sea, providing provocative luxury and sensual amenities for the perfect blend of ecstasy and eroticism.
World-class luxury and spectacular spaces create the perfect combination of relaxation and fantasy, with breathtaking views of extraordinary destinations, both land & sea.
Our clothing-optional concept offers intimate, exclusive spaces to meet new couples, and participate in the inexhaustible game of seduction.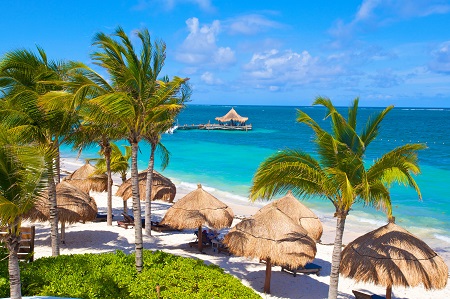 What's Included
In the deliciously erotic world of Desire Pearl Resort & Spa Riviera Maya, white-sandy beaches and sparkling turquoise waters will welcome you and your partner. Discover the most exquisite, all-inclusive plan, providing you with indulging amenities, ensuring you the most seductive, clothing-optional vacation of a lifetime.
Accommodations
Personalized check-in, including a welcome glass of sparkling wine.
All meals (breakfast, lunch and dinner).
Dining at 3 specialty restaurants.
Daytime & late night snacks.
Premium alcoholic beverages, fine house wine, beer and refreshments.
Food and beverage service available 24 hours.
24-hour Room Service (service charge).
Day & evening entertainment programs.
Gym.
Hotel taxes and tips.
Wirelss internet service.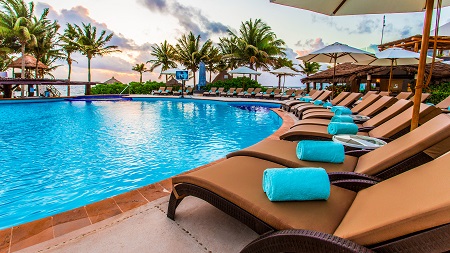 Day in and day out you will be consumed by the game of seduction, whether it be at the pool, beach beds, the spa, or erotic signature theme nights, this clothing-optional environment will take you on a journey beyond the limits of pleasure.
Desire Riviera Maya Pearl Resort will leave you mesmerized, provoking true passion while unleashing your hidden fantasies. An experience BEYOND SEDUCTION…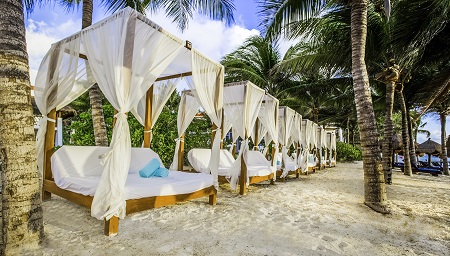 Our spa boasts six spacious treatment rooms that have been carefully decorated to provide an intimate space to relax & soothe your soul. For your maximum enjoyment we are proud to offer a Couples Suite with a private lounge and Jacuzzi terrace, taking your spa experience to a whole new level. With a selection of different essential oils and aromas we invite you to enjoy a fabulous facial, a soothing treatment, a relaxing massage, or one of our signature couple encounters, each of which ensure a sensual and unique experience beyond compare.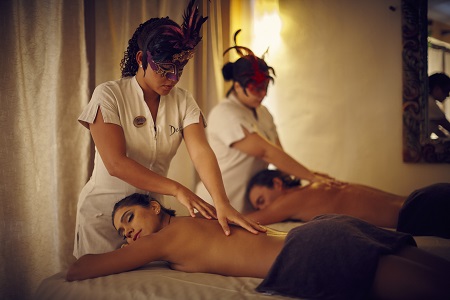 Each room was designed with high-quality materials in order to provide a comfortable stay that along with our exclusive bath amenities, ample living areas and our staff's warm, attentive, and discrete service, will contribute to the most superb clothing-optional resort experience of your lives.
---
Offer is based on a Double Occupancy in an Ocean View Room.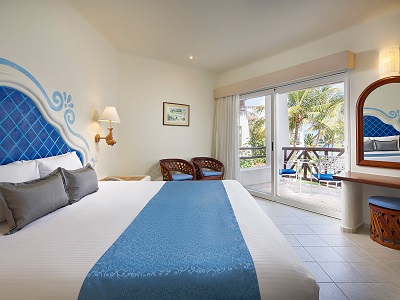 Ocean View Rooms
Adding even more seduction to your clothing-optional vacation with us, this intimate room features a world of comfort. Each of our 32 ocean view rooms provide a balcony or terrace with sitting area, bathroom with separate shower and bathtub as well as the following exclusive amenities.
A King sized bed
300 thread-count Premium Cotton Bed Sheets
Private Balcony or Terrace
Spacious Living Area
International Cable TV
In-room Safe
Premium Cotton Bath Robes and Slippers
Two Telephones (in room and bathroom)
Air-conditioning with individual Climate Control
Alarm clock and radio
Ceiling Fan
Minibar Service
Hairdryer
Separate Shower and Bathtub
---
Stay a minimum of 2 nights and up to 14 nights as desired and based on availability.

Tax and service charges are $69 additional per person per night.
All reservations are subject to availability.