Enjoy 7 Nights in a 1 Bedroom Suite at Calypso Cay Vacation Villas in Kissimmee, Florida!
Calypso Cay Vacation Villas
4951 Calypso Cay Way
Kissimmee, FL 34746
Check-In Time: 4 PM
Check-Out Time: 10 AM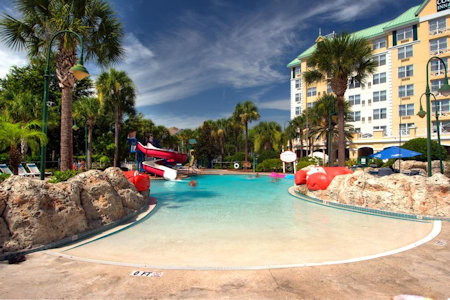 Calypso Cay is a Premiere Time Share Resort located 7 miles away from Walt Disney World® Resort, Universal Studios Florida and Sea World Orlando. Our luxury accommodations and high quality service will make you feel like you are right at home! Calypso Cay is located amidst the very best of Central Florida's attractions, as well as having our own array of guest-only activities. You'll never have to go very far to enjoy yourself!
Unit Description
Forget staying in a cramped hotel room - your Calypso Cay Villa is spacious and bright! Here, you can stretch out and relax in a festive setting that puts you in the mood for all of what Central Florida has to offer. Your villa combines the luxury of a condo with the amenities of a luxury hotel. The bathrooms at Calypso Cay are spacious and well equipped. The master bath has two separate areas, one for the spa/bathtub, and one for the shower and facilities. Getting a good night's sleep is essential while on vacation, especially after walking the local parks all day. In your Calypso Cay villa, the beds are large, comfortable, and inviting. You also have your own entertainment center to enjoy while you recover from playing too hard in the Florida sunshine.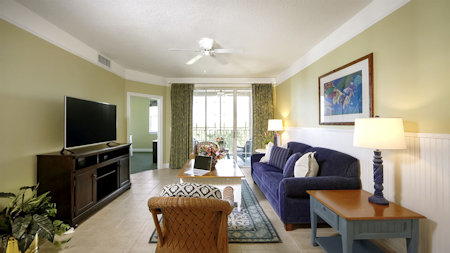 Each villa is fully equipped with a great entertainment center, and a personal web-enabled computer that offers you access to Calypso Cay's internet portal and everything beyond.
Dates Available: (Availability is subject to change)
Your 1 BEDROOM VILLA will sleep up to 4 people and comes with a full kitchen. There is 1 King Bed in the Master Bedroom and a Sleeper Sofa in the Living Room.

The Following Check-in Dates are Available in a 1 Bedroom Suite!
October 15, 2023
November 3, 4, 10, 11, 12, 18, 19, 26, 2023
December 2, 9, 10, 2023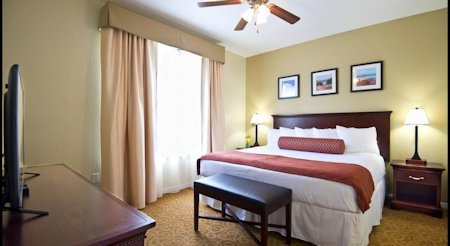 Don't see the date you're looking for? Click below to view and instantly confirm any availability up to one year from today. Just search your date range and destination in SkyAuction.com's NEW Vacation Rental Booking Engine!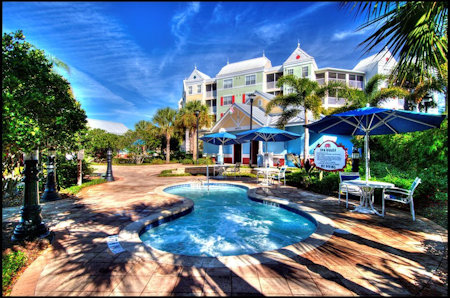 Our tropical themed pool is perfect for the entire family! The climate and our tiki bar is just the thing to ensure the relaxation of our adult guests. Meanwhile the kids can spend the afternoon zooming down our slide and splashing away in our unique zero-depth-entry pool.
Need activities? We have a full-time activities coordinator who hosts a wide variety of events for the entire family. We have everything from hang-gliding and scuba diving to bingo! The resort also has a miniature golf course that's open all year round! There is truly something for everyone.
On-Site Amenities:
Bar/ Lounge
Elevator
Free Water Park Access
Free Wi-Fi
Business Center
Fitness Center
Restaurant
3 Outdoor Swimming Pools
Free Self Parking
Mini Golf
Volleyball
Playground

DUE TO COVID-19 ALL SHUTTLE SERVICES ARE NOT OPERATING.
Calypso Cay's Courtesy Shuttle Service Schedule is as follows:

Shuttle Departure Times:
Sea World : 7:45 AM & 11:35 AM
Universal Studios : 7:45 AM & 11:35 AM
Epcot : 8:15 AM, 9:10 AM, & 11:35 AM

Shuttle Return Times:
Sea World : 6:00 PM & 6:15 PM at the green canopy
Universal Studios : 6:15 PM & 6:30 PM at bus lane #74
Epcot : 10:00 PM at bus lane #49
Magic Kingdom : 7:55 PM & 11:00 PM at ticket & transportation center bus lane #C25
IMPORTANT INFORMATION
Resort requires a $250 security deposit payable with a credit card only!
Adventure Park is not included in the resort rental. Please note, this is not a mandatory fee, only if you want to use this amenity.
Note: Spend the weekend or stay the week, the suite is yours for 7 nights. Also, there is no presentation to attend, so all your vacation time is yours to enjoy.