Bid Per Night and Choose Your Length of Stay anytime thru December 31, 2008 at one of the following Luxury Hotels in Brazil:
Ouro Minas Palace
Belo Horizonte

Royal Palm Tower
Campinas

The Royal Palm Plaza
Campinas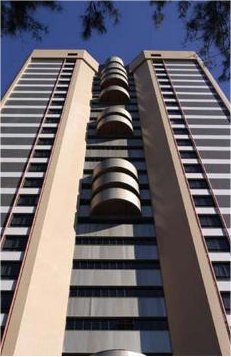 Ouro Minas Palace Hotel
Belo Horizonte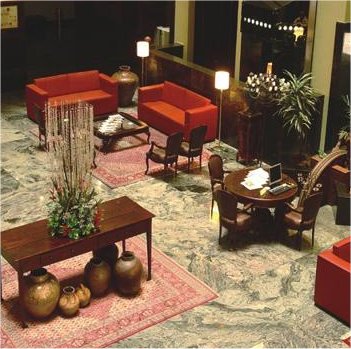 The huge, sophisticated lobby of the Ouro Minas Palace welcomes you to one of the most prestigious hotels in Brazil. Buzzing with atmosphere and activity, the open-plan atrium is combined with the superb Piano Bar and Restaurant, so you can languish over cocktails or dinner and people-watch to your heart's content. The hotel's Health Centre is fabulous: neat rows of luxurious sunbeds surround a vast, heated pool and huge panoramic windows and skylights create a light and airy atmosphere of pure tranquillity. An evening swim is a delight here where you can float in the pool staring up at the stars and then retire to your room for dramatic views of the city at night.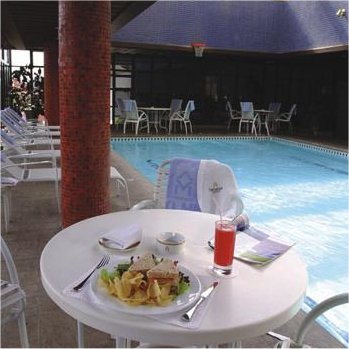 The hotel occupies a privileged location in the city of Belo Horizonte, conveniently situated next to 2 of the finest shopping malls and only 7 km from downtown. Pampulha Airport is 7 km away (5 min by car or taxi) and Tancredo Neves International Airport is 30 km (25 min by taxi).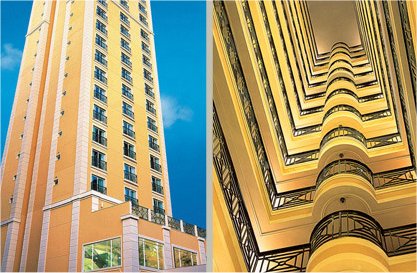 Royal Palm Tower
Campinas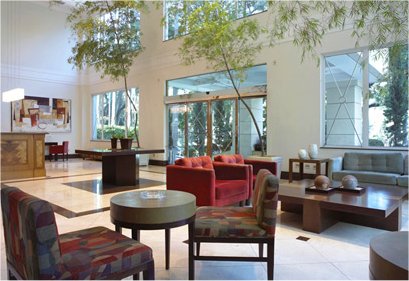 A highly refined place, designed with great style, which offers everything you need to optimize your work and all you need to relax. The Royal Palm Tower combines convenience and pleasure: the facilities which the center of Campinas offers and a wonderful view from the apartments, facing the centenarian palm trees of Carlos Gomes Square.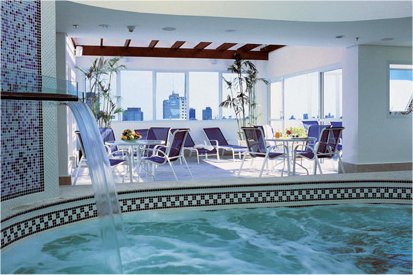 81 guestrooms and 2 suites, designed for guests who have a modern lifestyle and appreciate an esthetic aspects. All rooms have soundproofed walls, a complete workstation, mini bar, air conditioning and a 24-hour room service.
In an exclusive area next to Cambuí, which is famous for its nightlife. Close to the city's commercial and business centers. São Paulo Guarulhos International Airport: 62 mi/100 km, 60 minutes.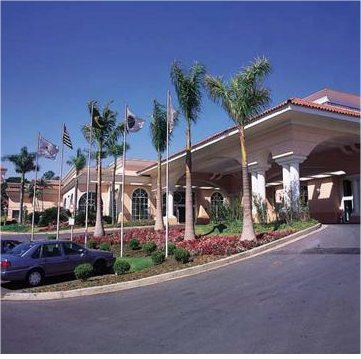 The Royal Palm Plaza Hotel
Campinas
In the shade of pastel colonnades, beneath red tiled roofs and swaying palm trees, lies The Royal Palm Plaza Hotel. Marble and glass illuminate the interior, while lush tropical gardens surround this truly contemporary urban resort. A hot Brazilian sun illuminates the spectacular fifty-metre pool by day and as night falls, the lights of the courtyard dance in its waterfalls. Choose from several fine restaurants, each offering a different selection of foods and ambience. For a cosy feel, try the Pessoa Bar with its live music and Latin flair. Whether you are staying for work or pleasure, the ultimate in serenity and convenience await.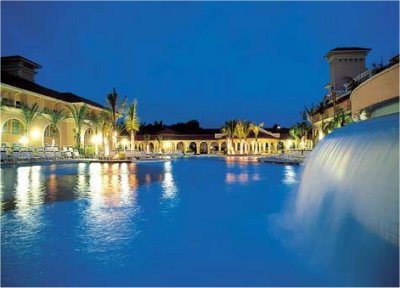 In Campinas, one of the most important business cities in Brazil, the hotel is only 15 min from Viracopos International Airport and 100 km from Sao Paulo Guarulhos International Airport.

Stay a minimum of 1 Night or up to 7 Nights as desired and based on availability.
Inventory is very limited. Auction Winners are advised to submit their preferred travel dates upon winning of the auction.
All U.S. Citizens must hold a valid Brazilian Tourist Visa for travel into Brazil.

Tax and service charges are $49.00 per room per night additional.

Offer is based on single or double occupancy in standard room accommodations.

Reservations subject to availability.