Air and Hotel Package Auctions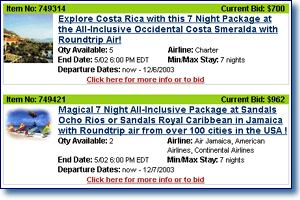 SkyAuction makes it easy for you to plan your entire vacation! Each day we offer hundreds of vacation packages to destinations like Florida, Las Vegas, Hawaii, Mexico, London, Paris, Jamaica, the Bahamas, Rio de Janeiro, Africa, China, Hong Kong, Thailand, and much more!
Many of the packages are for luxury tropical all-inclusive resorts, where the auction price will cover all your air, hotel, and food expenses!
Other packages include guided tours, such as a 9-day safari through Kenya or a 10-day Hong Kong and Bangkok tour package.